ADVENTURE REPORTS


BOOK YOUR RENAULT EURODRIVE HERE

Find out the Open/Closed status of Colorado passes here! Updated weekly in season.
Ready for 2010! For comparison, see the 2009 information.

Want to submit an adventure report to this site? Our Submission Guidelines can be found here.

NORTH AMERICA:
COLORADO, USA: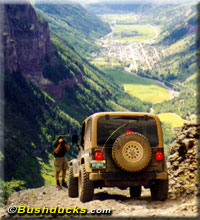 AUSTRALIA:


EUROPE:
IRELAND:
Planning a holiday in Ireland? Or have you ever spent time there? If so, please take a moment to fill out our questionnaire. Your answers will help format the new rural travel guide for Ireland, by Bushducks.


BOOK YOUR RENAULT EURODRIVE HERE

Home
Back Country Planning
Adventure Guides
High Country Pass Status
Adventure Reports
Bushducks Land Rover
Webbed Links
Be informed when this site is updated: