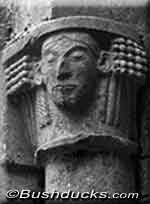 Silent stone figures gaze serenely over the landscape from a ruined church in Co. Clare.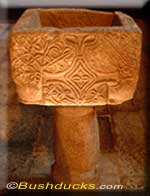 Sunshine illuminates this 13th century stone font

An ethereal soundtrack blends seamlessly with images of ancient Ireland as the camera pans slowly over a verdant landscape. Here is the Ireland of imagination, the Ireland of the Celts and faeries, and rich folklore; of invaders from the sea, and the green, green land of old.

Lyrebird Media--the brainchild of Mairéid Sullivan, and Ben Kettlewell--in association with Bushducks, have produced a new DVD, Time after Time , a timeless artscape covering three continents. Mairéid, who hails from Bantry, Co. Cork, and Ben, who is a descendent of the Cherokee, have drawn deep on their experiences of Ireland, North America, and Australia to produce this work. Currently resident in Melbourne, the duo have long been involved with the folk and art scenes on three continents.

Time after Time is not merely a music video, although it prominently features the soaring vocals of Mairéid Sullivan, and the accomplished and flowing guitar playing of her partner, Ben Kettlewell. It is not merely a series of stunning visuals, although it contains scenery that catches the breath. Forgotten icons and cultural symbols, along with vivid landscapes, story-telling, and impelling songs, steal upon your imagination and perception of these ancient peoples. This is not merely a telling of history, of the patterns of migration and settlement, and of ancient displaced people, although the ancient peoples of Ireland, North America, and Australia are sensitively featured, and their stories voiced for the listening.

Time after Time is a taste of all of these elements. History is woven with words, song, poetry, and speech, and the viewer is transported around the globe through these three areas that share the common bond of spirit. Even if you're watching it in a suburban living room, the DVD takes you to the verdant Irish landscape, west across the Atantic to the New World, and south to Australia's weathered soil. The poetry of W. B. Yeats, the stirring words of Native American leaders, and the poignant chants of Australia's aboriginal people echo the theme of this film over and over. The enduring strength of the Earth and her people, the need for harmony, and the drumbeat refrain of change permeates this production. Mairéid Sullivan and Ben Kettlewell undertook a challenging task, and succeeded with this telling production, a virtual journey that entices you to travel time and again, and with each passing gain a new experience.


Stark and ruinous against a cloudy sky, the remainders of Ireland's history are seldom visited.

Bushducks is proud to be an integral part of this venture. A multitude of photographs from Bushducks' archive of Celtic Ireland, of her mysterious and magical places, were reviewed for suitability before being used in this kaleidoscopic journey through the Irish landscape. Don't expect this to be a predictable tour through Ireland's tourist traps. The photographs were deliberately selected to show a long-ago Ireland, she of the standing stones, cairns, crannogs, and inscrutable stone figures. Bushducks' photography shares screen time with unrivalled images from Trinity College, Dublin, NASA, The Australian National Library, Kakadu National Park, and of course Lyrebird Media.

Read about the making of the film in Mairéid's words

Time after Time - view an eight minute Quicktime Preview

All your browser needs to view this eight minute clip is Quicktime available free from Apple for Windows, 98/Me, Win 2000/XP and Mac OS9 and OSX operating systems. Download it here
NOTE:
This is an eight minute preview, with the images running at twice the speed of scenes in the full length film. The soundtrack in this preview has been compressed for streaming media and does not represent the quality of video and sound on the DVD.
BROADBAND (ADSL & Cable) users, click here (26MB)
For Dialup Modems the film preview is in three parts, each approximately 8 MB in size.
Each clip will open in a new off-site window. Click below to download each section.
Preview part 1
Preview part 2
Preview part 3

Read what others have said about Time after Time :
"Time after Time embraces the viewer with a vision of three rich cultures. Images, songs and poetry are woven together to create a mesmerizing and enchanting film that propels this art form to a new level. It's magnificent. I was really moved."
Kevin Childs, Australian journalist
"A coming together - a sharing from the heart."
Bobby Bunningurr, Elder of the Maliburr tribe, Arnhem Land
"A lyrical and jubilant interpretation of the human spirit through time and cultures - a visual and aural feast to remind us of our common harmonious ancestry."
Brian Kavanagh A.S.E. Film Editor
Australian Film Commission
Lifetime Achievement Award recipient
© Bushducks, 2004
All photographs, © Bushducks, 2001-2005