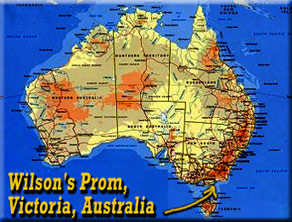 Prom Queen At Last!
Wilson's Promontory National Park -Victoria, Australia
by Carol Reed
Wilson's Promontory is the most southern point on the Australian mainland. The "Prom", as it is nicknamed, is an environmentally protected national treasure, backdropped with ancient hills and spectacular rock outcroppings. The park rolls down through gum tree covered granite cliffs and ends on the sweeping sandy beaches that overlook the Bass Straits.
This Yank spent several days exploring The Prom with her ex-pat sister and brother-in-law. Located in Victoria, Australia, Wilson's Promontory is about 140 miles southeast of Melbourne. The park was recently deeded back to the Aboriginal people in order to help maintain its pristine character and to honor the Aboriginal culture. It is easily reached by car. There's a range of overnight accommodation available, with reasonable prices of about $50.00 (AU) a night or less depending on the site. You can choose from environmentally friendly cabins, huts, group lodges, or campsites. There is also a lighthouse with bunk style accommodation and two cottages. Wilderness and tent camping is available on the outer trails.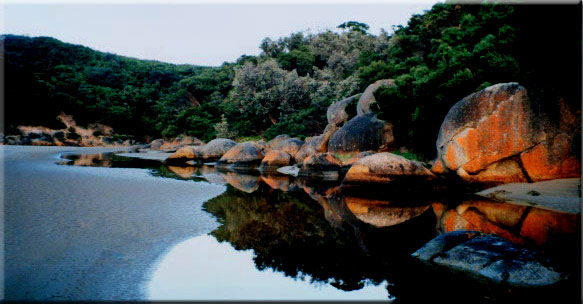 Tidal River rewards the early-rising explorer with their own slice of heaven

You'll need reservations for lodging, especially in the Aussie summertime. On site is a visitors' center, a well-equipped store, and small café. There's plenty of picnic areas with gas grills; a few quarters turns the gas on for barbecue. A laundry, fresh water, and toilets near the main campsites complete the list of facilities.

We enter the park through winding roads flanked with golden Australian spinifex grasses and dotted with wallabies feeding placidly. These small kangaroos look like giant jack-rabbits standing with little hands folded. Tall, flightless emus ogle as our car rolls by.

Into the camping and visitor's area, we arrive at the 5-unit "Lorikeet Cabins" to unpack our gear and settle in. A welcoming committee of tiny, wren-like, "willy wagtails" chirps and twitters around, fearlessly picking bugs from the car grill. In the gum trees above, brilliant blue and red crimson rosellas call down a greeting. Kookaburra birds guffaw and chuckle at us like a rude audience. The glorious bird-life proves to be only one of Australia's natural riches.

July is Australia's winter and the Prom can be notoriously stormy and blustery. Luckily, the day is calm and mild. We set off to explore "Whiskey Bay" where the colorations along the shore of Bass Strait are hypnotic. The sea is a deep teal-gray, the beach a clean white. High, wave-smoothed granite boulders surround the beach mottled with bursts of bright orange lichen. Behind us, lush hills of tea-tree forest rise up unspoiled. It could have been a thousand years ago; the energy of the place is timeless.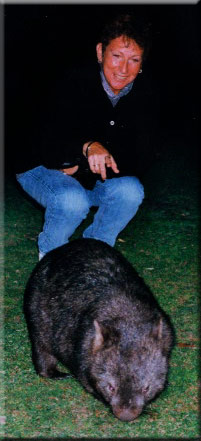 The author introduces herself to one of The Prom's wombats

At dusk, fat waddly wombats emerge from their underground burrows to munch on the stiff grass. They are placid, lazy, and totally ignore us as we approach close enough to touch their football-tough behinds. A mother and baby chomp happily on the grass while we take their photos.

Accommodations are simple in our heated cabin, although we have all of the comforts except the "telly". Besides a nice hot shower, there is a small and complete kitchen. It is a good idea to bring most of the groceries along, as the camp store sells mainly staples.

But for evening entertainments with no telly, why stay in? We wander outdoors with dazed awe and flashlights to see the real show.

Brushtail possums, eyes aglow, shyly peek down from tree branches. The fabled Southern Cross and Oz constellations fill my head with alien lights. Sleep that night is filled with Aboriginal dreams. What lives have I lived that call me to visit such mystical places?

Rising early the next morning, hiking alone, I locate heaven: Tidal River at 7:00 AM. The River meanders, tea brown and clear, down the mountains to the sea. It is sometimes only a trickle and at others, a torrent. Looming boulders at the base of the river reflect their perfect doubles into the stream at my feet. Sunlight, rising from behind the hills, begins to goldify the morning. Song birds, parrots, and magpies fly like confetti. As I round a sandy bend, the ocean and beach appear, empty and powerful. I am alone on a magnificent beach that must look the same as it did at creation: stone monoliths and mountain islets, sun topped; bottle-green and rolling surf. Uplifted and amazed, I am in the moment.

I hike back to the cabin filled with emotion and eager to share. The others are waking up for breakfast. Wanting to continue my commune with nature, I carry my plate outside to the picnic table. But it is time for the comic relief.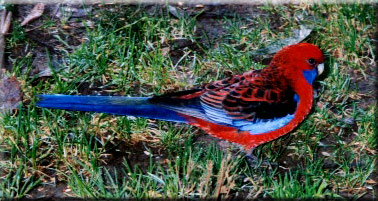 Australia's colorful crimson rosella

Crimson rosellas are smart little parrots. And obviously, I'm not the first tourist to carry food outdoors. They flock from thin air to perch on the tree and on the table. Although they are gentle, they are also persistent! Right up to my plate, on my arm, on my shoulder, on my head! Birdie breakfast! I laugh like a child and share my bacon and eggs. These rosellas know a sucker when they see one.

The sun is out and the day entices us to explore. We hike up hillsides into the temperate rainforest: green and eucalyptus- aromatic, mossy and damp. The waters shine and wink below. Down again to the beach where we stretch and sun ourselves like lizards on pink and black granite. Nature's influence overwhelms me; enormous and soul-filling, on the opposite end of the world.

I can still see myself basking in the power of that wild place that is sacred to the Aboriginal people. I am transformed by the experience forever; that Australian date at "The Prom." But I didn't need the formal gown, the matching heels, nor a waltz 'round the school gymnasium. I realize that becoming "Queen of the Prom" has an entirely new meaning.

You can come to this "Prom" with no special invitation!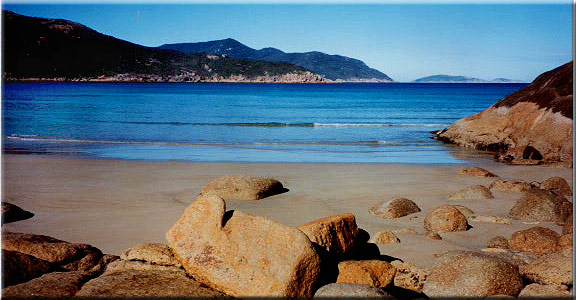 One of The Prom's most spectacular sights: Whiskey Bay
Further Information:
http://www.parkweb.vic.gov.au/
http://www.promcountry.com.au/wilsons_prom.htm
Carol Reed is a "fiftyish" freelancer whose adventures have appeared in "Caribbean Compass", "Northeast Sailing Life", sites on the web, and in the "destinations" page for New Jersey's "Curious Parents." Carol also edited the recently published book, Between Midnight and Day- the Last Unpublished Blues Archive, by Dick Waterman. Carol's travels have taken her as close to home as the New Jersey Pines, as far south as the windward and leeward Islands, New Zealand, and Australia. You can contact her at cryll@softhome.net
© Carol Reed, 2005
All photos © Carol Reed, 2005

Home
Back Country Itineraries
Adventure Publications
High Country Pass Status
Adventure Travel Tales
Bushducks Land Rover
Links
Be informed when this site is updated: