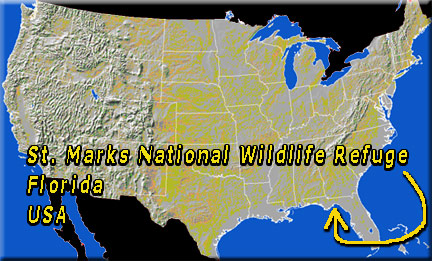 Wakulla Springs and St. Marks NWR, Florida
by Willis T. Bird
Since this is the first of what I hope will be many reports from the Southeastern USA I feel I should give a brief explanation of who I am and my background. First off, I am not a typical Off-Roader. If I were younger I might be. Ok, I would be! As a young man, I grew up in Florida and was always in the woods and swamps. I loved fishing and hunting. My dad saw to it that I learned early to find my way back from the wilderness. He'd make me guide him back from hunting and fishing trips so I learned early to watch for clues on the way out so I could find my way home. This saved me many times.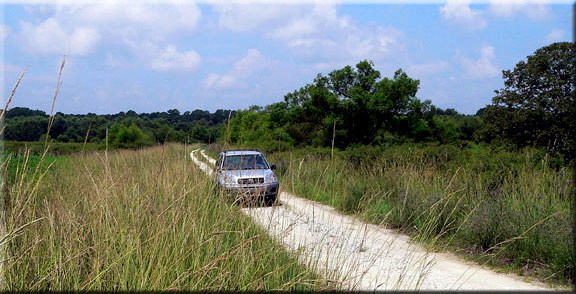 Small tracks in St Marks NWR entice you to explore
The next thing you should know is that I am primarily a photographer and have been doing this seriously for 40 years. So my trips will take mainly a photographic slant and explore what the area holds for photographers. Lastly, I do not like the tourist traps and interstate sites. I like the back roads that you would never hear of unless you live locally or do a lot of research on the area. I will try to bring you to places you would never see or know about by just following your road maps. Now most of these will not be rough back country and most roads will be considered improved though not necessarily paved. If you like gators, wading birds, ducks, and critters…read on.
Let's begin with Florida. Most immediately think of Disney World, Sea World and such places when Florida is mentioned. But I think of swamps, jungle, muck, gators, and birds…beautiful birds. Not only that but some of the most beautiful sunrises and sunsets you've laid your eyes on. To get to this first area of Florida we don't travel down the peninsula but turn west into the panhandle of Florida.
We find two of my favorite places within about 18 miles of one another; St. Marks National Wildlife Reserve and Wakulla Springs. St. Marks is just what it says it is: a wildlife reserve. There are many ponds that beckon waterfowl to come in and land, and trails for you to walk. These are like levies and you can look down on the critters which may be deer, gators, raccoon, and all sorts of wading birds. At certain times of year there is a butterfly migration that comes through this area. Many beautiful water lilies bloom on the ponds at other times.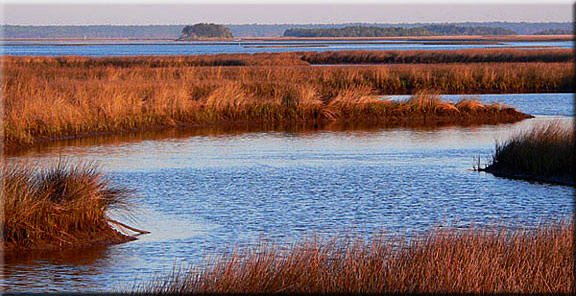 Quiet landscapes in St Marks NWR entice the photographer and wildlife enthusiast
At the far end of the road as you get to the open water that leads to the Gulf of Mexico, you'll come across a surprise: a very old lighthouse. If you have a boat, kayak, or canoe you are in luck as there are plenty of places to launch from and to explore. But you would do well to head up the St. Marks or Wakulla River which join and empty near the lighthouse. You could be lucky and see some of the manatees which frequent the area. Seldom do I visit and come away without seeing anything of interest. I have photographed a bald eagle here several times. Once he was doing battle overhead with an osprey over the fish that the osprey had caught. But one word of warning…bring bug spray. They can be very annoying at times. At other times, you never know they are there.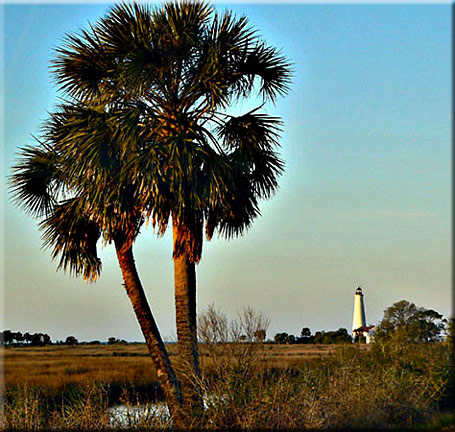 The old lighthouse at the mouth of the Wakulla River
Down the road about 18 miles, there is a place that can be called a tourist attraction but it is not emblazoned with neon signs and is not a place with thousands of cars waiting in lines to get in. To me, it is more fun and entertaining than Disneyworld. Wakulla Springs is as old as history itself. Mastodons are known to have visited to get some of the cooling spring waters. There is an old hotel there, done in what I believe to be a Spanish style, with a nice dining room and a sandwich bar. There's even a few tourist items to purchase. But the spring is the attraction. You can swim there if you love cold water. They say that Wakulla means "Mysterious Waters". The only thing separating your swimming area from the lounging gators is a little rope. There seems to be an understanding: you don't go outside the rope and the gators don't eat you, But venture beyond the rope and you can become a meal and unfortunately some have. It seems that the gators understand the rope better than some humans do. They don't come inside.
There are two types of boat trips available at Wakulla. The glass bottom boat is nice if you've never been on one. The water is often so clear you can see 100 or more feet to the bottom in the deepest part. Fish are everywhere. And you can see the spring where the water boils out. Divers have been into the cave where the water flows from but from what I understand they have never found the back of it. The Wakulla River which flows out of the spring is roped off a mile or two downstream so that boats cannot come up. Once, privately owned, the springs are now owned and operated by the State of Florida.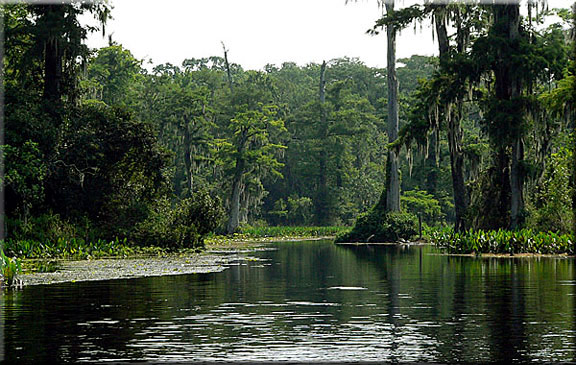 Mysterious and shadowy, the Wakulla River is best explored by boat
The second boat trip is the "jungle cruise" which takes about 45 minutes. It takes you back in time like you've never been before, to a Floridan that might have existed thousands of years ago. You hear the cries of birds and gators may swim alongside the boat. The guide does a good job of explaining the system to you as you go and can answer many questions you may have. S/he will point out the various bird types that you will see along the way. Different seasons bring different visions. Again, ospreys and bald eagles are present here as well as Ibis, anhinga, all sorts of duck and other waterfowl, and the ever elusive limpkin. The smells of the river swamp and ancient cypress trees will take you back in time. You will see the very tree that Tarzan jumped from in the 1930s in the movies and this is the area where other movies were filmed such as "The Creature From the Black Lagoon". Get your camera ready and if you don't have one…get one.
Getting there: Interstate 10 runs through Tallahassee, Florida (the Capitol). From there you take hwy 363 South (South Monroe St.) through Wakulla, Fl. Take hwy 267 east to hwy 98. Cross the St Marks river at Newport (less than a mile) and watch on your right for the signs to St. Marks NWR. It is a straight shot to the Reserve. There is a small charge to enter. On your right you will soon see an information station. They have interesting literature about the place as well as a small museum and boardwalk.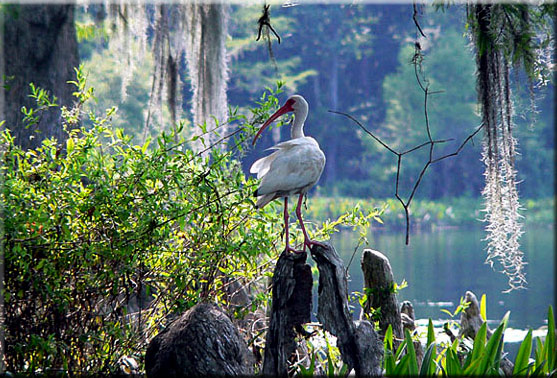 You can see much birdlife at Wakulla, such as this ibis
As you leave St. Marks NWR reverse your tracks back onto hwy 267. You will cross hwy 363 this time instead of turning onto it back to Tallahassee. Several miles later, you will see hwy 61 where you will take a right and about an eighth of a mile you will see the entrance to Ed Ball Wakulla State Park. Again, there is a small charge of $4.00 per car to enter. The jungle cruise will set you back another $7.00 per person. A bothersome charge but not nearly what you pay for Disneyland!
While in the area, you may also wish to see the San Marcos de Apalache State Historic Site. This is an old Spanish fortification where they now have a museum set between the Wakulla and St. Marks rivers. Canoeing is possible here. Manatees are sometimes seen in this area. By this time you should have a map so I will leave some exploring for you to do on your own. Just look for the little village of St. Marks and follow the signs. You have to look for them. There are many more places to explore in the area if you have the time.
Further Information:
Official website of St Marks NWR
More information on Wakulla Springs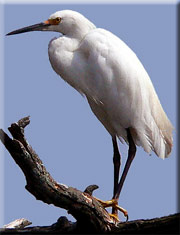 Willis T. Bird is a retired government worker (State and Federal) and has been a serious photographer for 40 years. He has written and published a Sci-Fi novel, "The Alaska Incident" as well as a feature article for "Florida Game & Fish" magazine. He is the author of a series of articles on photography for young people at www.apogeephoto.com under the heading of "First Class Photography". Willis served in the USAF as an intercept radio operator and has been a amateur radio operator for 53 years. His first love is wildlife and landscape photography. You can contact him at wbird@centurytel.net
© Willis T. Bird, 2005
Photos © Willis T. Bird, 2005


Home
Back Country Itineraries
Adventure Publications
High Country Pass Status
Adventure Travel Tales
Bushducks Land Rover
Links
Be informed when this site is updated: