ADVENTURE REPORTS -- SUBMISSION GUIDELINES
Updated 8/9/2011
Are you an adventurous, independent traveler? Have you been somewhere off the beaten track lately? Somewhere memorable that you would like to share with fellow global wanderers and travelers?

Bushducks welcomes and encourages independent submissions for the Adventure Reports section of Bushducks Global Adventures website. Please review the following guidelines for our current requirements for submissions to this popular, growing adventure travel segment.

Happy wandering on your adventures. Remember that the tiniest of journeys can be a giant experience.

Bushducks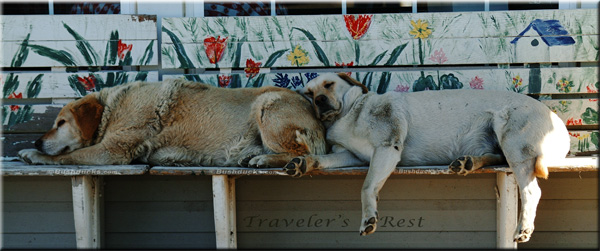 Specifications:
Note: These guidelines refer to submissions for the Adventure Report section, NOT the Colorado Pass Page.
1. Currently, Bushducks is only seeking Adventure Reports specifically relating to 4x4 (off-road) touring destinations. While Bushducks encourages mention and information of other sporting activities in the wild, heritage, culture, artistic pursuits,or simply landscape appreciation journeys, Bushducks only considers destination-specific Adventure Reports that will appeal to 4x4 drivers.
2. Adventure Reports can be of varying length, however preference is given to submissions of 1,000 to 3,000 words, with a selection of relevant photos to compliment your memorable adventure. Please ensure you have the right to submit such photos - best done by proudly knowing you have taken them yourself and are in a position to make them available for public viewing, without copyright restraints elsewhere.
3. New writers welcome, but we expect a high caliber of writing. Readers wish to "Experience the Journey", not be confused by it.
4. Tread Lightly! Any article which encourages or promotes irresponsible or reckless behavior on foot or a vehicle, or goes against programs such as Tread Lightly! is obviously unacceptable.
5. Bushducks prefers articles that describe a specific destination, rather than a general tale.
6. Bushducks prefers no "how to" articles. Let's share - not lecture.
7. Bushducks prefers an informal, lively style; refer to articles already published for style.
8. Please avoid articles that are simply lists of accommodation or other commercial ventures. It is fine to reference the occasional business, but don't overdo it. We do not publish articles written for a wide distribution and will not acknowledge such submissions.
Submit your article in plain ASCII format in the body of an email, along with a brief cover letter, to Bushducks at Bushducks@Bushducks.com. Please type: "Bushducks Adventure Report Submission" in the subject line of the email. Please scan photos, or provide digital images as 72 d.p.i. jpeg or tif files, and attach them to the email. Unsolicited attachments (except for photos) will be deleted unread. We will acknowledge receipt of your submission, and will normally give you an answer within four weeks. (Remember we too are off on an adventure …somewhere!). Please include a 50-word bio, as well as your email address.
We reserve the right to edit the grammar and/or style of the report. Major changes will be returned to you to revise, or for your approval of our changes, before publication.
We require that you give Bushducks exclusive electronic rights for three months and indefinite archival rights. After the three months you are free to submit your article elsewhere, as long as you credit Bushducks Global Adventures with first publication. You retain the copyright of your article and your photographs. We will consider previously published material providing you have the rights or can get the rights, but it will be a harder sell. (Indicate where and when published, plus rights status.) You can submit more than one Adventure Report, but no more than three at any one time. Please send separate reports in separate emails. No simultaneous submissions.
Payment: You will be paid US$25 flat fee for one-time electronic rights. This includes payment for the article and any photos. We pay via Paypal, within 15 days of publication. Your submission may be considered for a printed anthology of Bushducks Global Adventures travelogues. Payment for this will be addressed separately.
We look forward to receiving your adventure reports! Remember a global audience wishes to "Experience your Journey"!
Bushducks Global Adventures

Home
Back Country Planning
Adventure Guides
High Country Pass Status
Adventure Reports
Bushducks Land Rover
Webbed Links
Be informed when this site is updated: