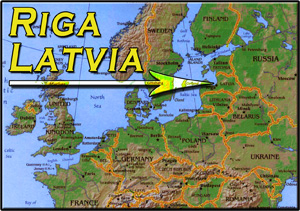 ONCE BITTEN
by Bushducks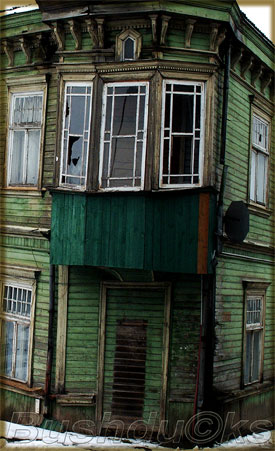 THE FLYING SNOWFLAKES sting my cheeks, and the biting cold leeches deep through the layers of thermals and fleece. My fingers ache within the thick gloves, and I scrabble for balance on the ice sheet underfoot.
Beside me, Donald lifts the camera. "Batteries need changing."
I nod my understanding, and without discussing it, we turn and scan the area for somewhere warm and sheltered from the bone-biting wind.
An arctic expedition? Nordic skiing in the frozen north? No, this is Latvia in February and even in this small 12th century town east of Riga there's a welcoming coffee shop a hundred meters away; truly a welcoming sight, unused as we are to the freezing temperatures after Ireland's temperate climate.
Latvia's entry into the EU sparked a wave of fresh migration. Young Latvians are leaving their country to explore new, often better paid, opportunities within the new countries opened to them, and entrepreneurs and established businesses alike are moving into Latvia, fueling the country's new economic boom. Along with the people comes the demand for transport links, and now there are many direct air links to major European cities. Cheap fares abound, and the planes are full of a steady stream of Latvians and other European travelers.
Our direct Aer Lingus from Dublin to Riga takes three hours-nearly as long as the average commute in Dublin traffic, yet a lot pleasanter. The airport is 12km from the city, along good arterial roads, edged by snow piles on this freezing February day.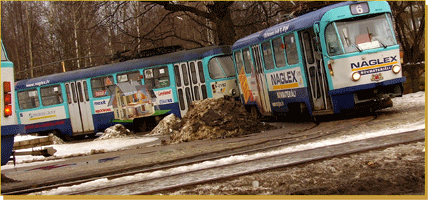 Our rental car purrs along cautiously pas t the shopping centers and warehouses--cars share the roads with trams and trolley buses. Our first hotel is one mile north of the old city, along a major boulevard. Hotel Tia is unprepossessing on the outside, but comfortable and functional within. It offers free car parking--a necessity for those with a car, and is one of only a few hotels within walking distance of the old city to offer this.


Twenty minutes later, we are ensconced in a cozy twenty-four hour Kafejnīca studying a long and varied menu written in Latvian, Russian, and English. The place is buzzing with groups of friends clustered at large tables, and couples enjoying a quiet drink. It's the perfect place to people-watch while enjoying the local beer, a glass of the sweet Rigas sparkling wine, and a "beer plate" of Latvian and Russian cheese, olives, and crispy salty garlic black bread.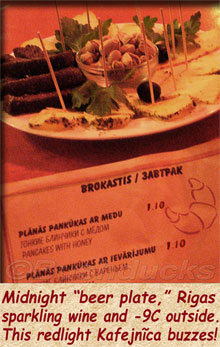 It's obvious that this is a city for the people-watcher. Although the traffic is minimal at this midnight hour, there's a constant parade along the icy streets. Rigans are stylish and careful dressers. The curse of pink and grey sportswear and a thrown-together look is conspicuously absent. Men and women dress in fine clothes and shoes, taking a care about their appearance that is lacking in other places. And the boots! High-heeled, knee-high elegant boots, with buckles, embossed leather, fur-trimmed, tooled, styled, and refined. For such a cold climate, where the streets are usually icy and treacherous, I don't believe I saw a snow boot or a gumboot the entire time. Fashion takes precedence over practicality here, yet women stride along on four-inch spikes on the slick pavements.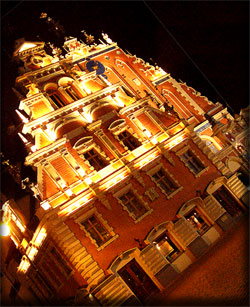 MOST VISITORS TO LATVIA KNOW ITS CAPITAL, RIGA. The compact size, beautiful and varied architecture, proliferation of bars and hotel, plethora of attractions, and relatively cheap prices have made it a destination for the weekend break, or the stag or hen party weekend. But fewer visitors make it outside of Riga to experience the countryside and the historic small towns stamped with a hard, cold history.

Leaving Riga the next morning under overcast skies, the evidence of years of Soviet occupation become clearer. The main road out of Riga, north toward the Baltic Sea passes through a series of settlements consisting almost solely of crumbling concrete apartment blocks. During the occupation, when the Communist government seized houses, businesses, and farms, millions of people were rehoused in developments such as these. Clustered together, and modeled after a Moscow suburb, these apartment blocks lack any sort of aesthetic appeal. Farther out again, on the flat frozen fields, there are more clusters of them, often surrounding a power plant or old factory; housing for workers forcibly relocated. Driving into these communities is an eerie experience. Often with only a basic shop, and no other facilities, the elderly, the young, and the poor are trapped in a joyless existence. It is common to see people marching with fixed purpose up the road and back, a route march that served no purpose other than a way to pass the time.


An hour from Riga, on the edge of the Baltic Sea, the cold is sharp and dry, which belays the slushy nature of the wet, heavy snow. We stop at Saulkrasti, and walked the short distance along wooden walkways to the beach. The small cliffs are friable and eroded, vegetated with small pines and hardy coastal vegetation. Down on the beach, ice crystals cover the sand and the brown sea laps placidly. In summer, locals and tourist throng these Baltic beaches. Even in winter's biting wind, there are hardy souls braving the chill to stare out to sea. A hardy young boy races his makeshift sledge down the ice sheets to the beach.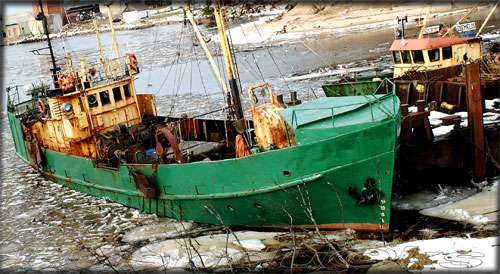 THE COLORS OF LATVIA ARE RUST AND GREY. It's as if the long dead Soviet industries pour out into the water, steel gray, and chestnut. Fishing vessels huddle together in the small port at Saulkrastis in a crashing sea of miniature ice floes, jostling and sliding together like crazy paving.
The road to Cesis travels a short distance inland from the coast, through rows of soldier-straight slender pines and flat fields covered in snow. The small settlements that exist seem built at random; a few old timber and brick buildings facing the bland-faced communist apartment blocks. None of the buildings are freshly painted; the decades old paint hangs in curls from the timber, peeling down in the harsh weather. Even the mortar between the bricks is crumbling away in the freeze-thaw action of the weather, a high-speed erosion in miniature.

THE PEOPLE SPORT STOLID FACES and smiles are few. They wear black, gray, and sturdy boots and clothing. It's as if the weather has made them turn inwards; there's no outward expression permitted.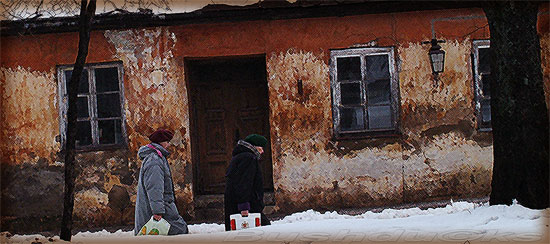 Cesis New Castle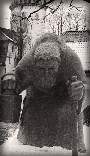 We haven't booked accommodation in Cesis, but there are a few choices. We decided to stay within walking distance of the town square, so that we don't have to drive, and for 32 Lats we find a comfortable room in a mid-level hotel, five minutes walk from the town center.

CESIS IS A 13TH CENTURY TOWN, built around the town's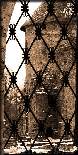 medieval castle, which squats on a promontory, sheltering the town behind it. The older section of the town is a mix of narrow streets and stone and timber buildings. Visitors will find three central hotels or guesthouses, with a couple of American-style purpose-built motels on the outer edge of town. There are several impressive buildings in the center; St John's Church, the two castles, the elaborate Kolonna Hotel in Vienibas (Union) Square, with its monument to commemorate the soldiers who fell in the Latvian War of Liberation.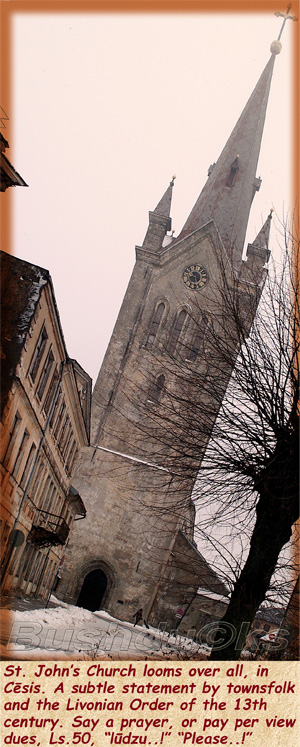 However, interspersed with the thriving cafés and busy shops, are older, stone and timber houses. At first glance, they appear to be derelict; the broken panes of glass and jagged roofs give that effect, but soon you'll see smoke curling from a chimney into the still air, and an occasional light chinking through the tightly pulled curtains. People still live in many of these houses, tightly bundled against the cold, but in conditions that are seldom seen in the developed world.

It starts to snow, fat snowflakes the size of coffee saucers, so we escape into a welcoming bar. Like everywhere, it serves pizza, but it also had a good range of more traditional food: lightly smoked salmon with potato pancakes and dill sauce, and some more exotic foods such as steak tartare, served with a raw egg, capers, anchovies, a glass of brandy, and toast triangles. Prices are cheap by western European standards, but with the average Latvian earning a monthly wage equivalent to €440, a meal such as this would be an extravagance. Outside the bar, people hurry past, bundled up against the cold. We try a traditional Latvian internal warmer, the renowned Rigas Black Balzams, a thick, dark drink served from a pottery bottle, supposed to cure a multitude of ills, including depression. First created in 1755, it supposedly cured Catherine the Great of a mystery illness. It tastes like smoky coffee with a strong, bitter aftertaste, and is not unpleasant, and at 45% proof packs a warming wallop to the stomach.

We go back onto the streets, slipping and sliding along slick streets to a cozy brick cellar café in the basement of Cesis' grand Kolonna Hotel. On this Sunday night, their food is limited, but the atmosphere has the comfort and fug of a good local bar.

We walk back to our hotel through silent streets around 10pm. People hurry past, but there's barely any traffic. Back in our warm room, the silence is total, even though we're right in the center of town.

THE NEXT MORNING, after a hearty traditional breakfast of black bread, cold meats, cheese, boiled eggs and excellent coffee, we bundle up to brave the cold again. Around us, the town is coming to life. At 9am there's a steady stream of people pulled into the center as if on strings. They walk fast on ice that has us pecking unsteadily across They clutch shopping bags, briefcases, leather purses, off to the market, work, school. There's little chatter, but the impression is that of a close-knit community.

After a quick visit to the castle wrapped around the promontory of the town, and to St John's Church, we left Cesis, wrapping our way back to Riga, via Sigulda.

SIGULDA IS OPTIMISTICALLY KNOWN AS THE "SWITZERLAND OF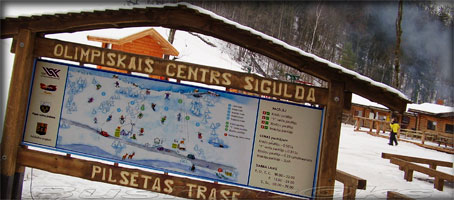 LATVIA." But this is like calling any local pub with a slot machine "Little Las Vegas". That means it's cozy, welcoming, friendly and entertaining, but you're not going ski a long curving black run or win a million. The small town has no real focus, although it would make an excellent base to explore the dramatic red sandstone Gauja River Valley, with its caves, mineral springs and nature trails. There's a fine castle here - the new castle, abutting up to the ruined medieval castle on Pils Street. If you are a skier, the ski hill is right in town. It's only a couple of hundred meters long, but it's steep and busy with practiced and efficient skiers executing neat parallel turns from top to bottom.

BACK IN RIGA, we opt to stay at B&B Riga,


which has a two-room self-catering apartment as well as B&B bedrooms. The modern apartment is set behind a stone street-front building, and has secure off street parking, in a busy part of town. There's plenty of cafés and bars here for a bite to eat, and prices are significantly lower than in the old town. From here, it's about twenty minutes walk to the old town, which is where most of the known attractions are clustered.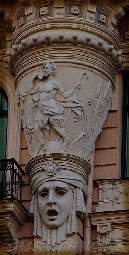 Here you'll find the landmark Blackhead House, dating from 1344, the leaning Three Brothers houses, the castle, and St Peter's Baznica.On Elizabetes Iela (Elizabeth Street) you'll find some of the finest surviving art nouveau buildings in Europe. Luckily, these architectural treasures escaped a lot of the WWII devastation that razed many similar buildings elsewhere in Europe.

A sobering experience is the Museum of the Occupation, which details Latvia's history of Soviet and German occupation from 1939 until independence in 1991. Housed in an extremely ugly concrete building, the museum displays fragments that you'll long remember: two gingery braids tied with narrow faded ribbon, cut from an eleven-year-old girl. Battered pieces of tin and letters home, portraits painstakingly drawn in home-made pencil. When every single item down to the paper and scissors have to be crafted from scrap, the results are all the more treasured.

A HAPPIER EXPERIENCE IS THE CENTRAL MARKET.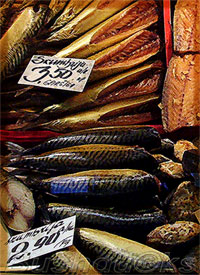 Housed in five aircraft hangers, it's a cacophony of visual delights. Pomegranates cut to display their ripe, red seeds, a stray dog chewing on a bone larger than he is. The bitter, bone-chilling wind grates the outside vendor's cheeks and hands to a raw red, but still they stand and shout and tout their wares.

An hour of the wind had us diving into a Kafejnīca for coffee - or something stronger. Keep a close eye on your wallet; the bustle and crowds of the market make it a Mecca for pickpockets as well as those seeking a more honest bargain.
Our days in Latvia end as they had begun: sitting by the window in the steamy warmth of a Kafejnīca watching Riga parade past the window.

TAKE
HOME:
A traditional bottle of Rigas Black Balzams. Even if you dislike the taste, the pottery bottle is a striking souvenir. A sweeter drink is the local Benediktins (try the supermarkets), a local brandy and honey liqueur - delicious over ice. For more lasting souvenirs try Latvian amber jewelry, or the woven linen shirts and blouses, or quality hand-knitted mittens and hats.

FURTHER INFORMATION:
EU passport holders and those from the U.S., Canada, and Australia and other E.U. "white list" countries need not apply for visas for stays of up to three months.

The currency is the Lat, which runs close to the British Pound. Currently 1US$ is 0.45 Lats.

Riga Tourism: http://www.rigatourism.com/riga/
Cesis Tourism: http://www.cesis.lv/en/

http://www.rigatourism.com/riga/
http://www.cesis.lv/en/
http://www.bb-riga.lv

© Bushducks, 2007
Photos © Bushducks, 2007




Home
Back Country Itineraries
Adventure Publications
High Country Pass Status
Adventure Travel Tales
Bushducks Land Rover
Links
Be informed when this site is updated: