BOOK YOUR RENAULT EURODRIVE HERE
Renault Eurodrive - European Car Hire Made Easy
July 2002

A European holiday is many peoples' dream. They picture hazy, lazy days motoring along quiet rural lanes, through fields of French sunflowers and vineyards, past small Irish hostelries, through the Italian Alps, or the mountain villages of Spain. The intrepid explorer can plan a holiday itinerary that can take in several different cultures and countries, in as little as a month. Even during a three week holiday, the closeness and small size of many of the European countries allows for a truly international holiday, spent in two or more different countries or principalities.

But wait! There's a problem.

When you book a hire car with many of the major companies, they will tell you that you can obtain the papers necessary to take your car into other countries in the EEC - and you can. But the costs of this exercise - normally weighted as extra insurance and a daily fee for taking the car out of the country of origin - can easily double your original daily cost of hire. Of course, you have the option of returning your car in one country, flying to a second and hiring anew, but fighting with luggage and airport procedures is a quick way to ruin the mood of a vacation.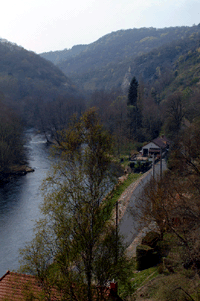 Instead, those travelers who are spending seventeen days or longer in Europe could consider the Renault Eurodrive option, a superior alternative to the conventional hire car arrangement. It is open to all business and leisure travelers whose main home is outside of the EEC. Citizens of EEC countries are eligible, provided that they also have a passport for a non EEC country, or can prove residency elsewhere.
It sounds complicated, but in reality, it is as quick to organize as a hire car. First, you select your vehicle from Renault's list. This includes sedans - ranging from economy to luxury - vans, a minivan, and a luxury SUV. With many vehicles you have the option of choosing petrol or diesel, and although the diesel vehicles are often a little more expensive initially, you will recoup your additional cost and more very quickly, given the economy of the vehicles and the lower cost of diesel fuel in Europe. Options are limited; the car is supplied pretty much middle of the range as far as options go. Some offer a choice of transmission; if you want an automatic, be sure to pick one that specifically mentions this fact. Manual transmission is the standard type offered in Europe. Many cars are air conditioned, and all come with a radio, and either a cassette deck or CD player.
There is a flat fee for the first seventeen days, after that you pay a daily charge, which is far lower than hiring the cost of a comparable car through a conventional company. And here's the best bit. All prices are fully inclusive, and there are absolutely NO extras. All taxes, and full insurance for both your vehicle and third parties covering 22 countries in Europe are included, and best of all, this insurance has a zero deductible, so there are no out of pocket expenses in the event of an accident. All you have to buy is the fuel, and if you keep the car long enough, you become responsible for the routine maintenance.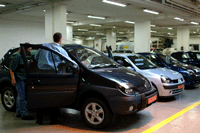 Set up is easy. You are supplied forms to fill in - considerably less than the normal long forms for motor vehicle insurance, the standard contract is a single sheet - and the hire costs are paid by credit card. A deposit is required in advance. There are a choice of pick up locations in many EEC countries, and several locations in France. An extra pick up or drop off fee is required for locations outside of Paris, and you can pick up in one location and return in another. Should you change your mind and choose to return to a different location, this is arranged by a phone call, the difference in fee calculated and is either refunded or the extra is paid.
Flexibility is the key with Renault. You can extend or cut short your hire, with very minimal notice, but note that if you return the vehicle in fewer than 17 days, you will be charged for the full 17 days - the minimum term of hire. Best of all, for last minute vacation planners, Renault only need eight days notice to arrange your vehicle for pickup at their main Paris office. More notice is required for other locations.
When Bushducks were working in Europe last spring Renault Eurodrive was the ideal option for us. We needed to travel to Ireland where we were working on a guidebook. Ireland is notoriously expensive for vehicle insurance, but it is one of the included countries for Renault Eurodrive. We selected the Renault Megane Scenic 4x4 as being the most suitable for our needs. One of the pricier cars available, it is best compared to the Lexus RS 300. With a five speed manual transmission, air conditioning, leather interior and CD player, AC, a roomy interior and unique outside styling, the Scenic proved to be an excellent choice. Although you cannot specify options or color, you can purchase a child seat or roof rack outright at reasonable cost to add to your package.
Due to our late arrangements, we picked the car up in Paris. Flying into Charles de Gaulle Airport, we took a shuttle bus, which dropped us off at our pre-selected hotel, the Kyriad, a budget priced chain which is found in most major towns and cities in France. The unpretentious hotel offered a small, clean and comfortable ensuite room, with the typical continental arrangement of a handheld shower over a bathtub, at a budget price for the Paris location. It is located on the busy Rue de Flandres, in La Villette, walking distance to cafes and bars. Best of all, it is a ten minute walk to Renault's main location.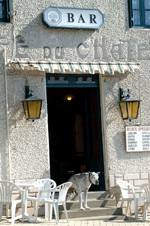 On our arrival at the Renault Eurodrive offices, we were shown upstairs to a counter and waiting area. The clerk - who spoke excellent English - asked for the passport of the renter, and we signed the minimal paperwork. The registration papers and green card, required for driving in Europe, were supplied already completed before our arrival. Other papers were signed, and the whole process took less than ten minutes. The clerk showed us to our vehicle in the garage, and gave us a comprehensive tour of the vehicle's features as well as answering our questions. The registration sticker, and the F sticker - denoting a French registered vehicle - necessary for driving in other European countries were affixed, and an English language handbook located.
The vehicle is supplied with a teaspoon of fuel in the tank - enough to get you the 50 meters to the filling station at the exit and no further. But once the vehicle is fueled up, then Paris, France, and Europe are yours to explore.
Supplied with the paperwork are a basic road map, and a guide to some recommended hotels and restaurants in France. The guide alone - one of the many available - is invaluable, offering choices of mainly small, characterful hotels at affordable prices. The 2002 prices ranged from €30 for two people in a double room up to around €60, with many being at the lower end of the price range. Unlike England and Ireland, most do not include breakfast in the price, but there are normally breakfast options available. Traditional continental breakfast of croissants, conserves and French bread, juice and coffee is normally around €4-5.

We chose to leave Paris and head south, in a long loop towards Bordeaux, taking the smaller backroads and avoiding the toll routes and faster major roads. Such a leisurely approach meant that we didn't get anywhere very fast, but it allowed us to explore the myriad of delights on offer in the French towns and small villages.
The Renault Scenic 4x4 was a delight. Brand new - with only 4km on the clock when we picked it up - it was a swish-looking metallic dark blue colour. Underbody clearance and its all wheel drive capabilities are similar to the Lexus - it has no low range gears, but the all wheel drive offers improved traction in wet or muddy conditions and the clearance is sufficient that you are not uneasy on rougher dirt roads and tracks. It is equipped with a full size spare - a necessity if planning on taking the smaller, rougher roads, with longer distances between services. The very comfortable seating position, and large windows give excellent visibility all around, although the sharply tapering hood makes it difficult to judge front and rear distances at first. This is a definite disadvantage when your first taste of European driving is straight into the mad house of Paris, where everybody drives as though the police are on their tail and the road and traffic markings are sufficiently different to other countries to add to the initial confusion.
We left Paris on the A6 Autoroute to the south, following the signs to Lyon, and took the exit to Milly la Forêt, in the Gâtinais. Only thirty minutes south of Paris, yet here the small paved roads wind through fields and the natural forest area, studded with villages clustered together in tumbled heaps of stone. Many of these villages have weekday markets in the square. Well worth a wander, we purchased ash coated goat's cheese for €1.20, locally made and sold from open stalls, plus sausicon, coated with herbs or pepper, in a variety of misshapen individual shapes. People watchers will be in heaven at these everyday occasions - old men sit outside the street front cafés, sipping the dark, pungent coffee, dogs slink among the table legs and through the stalls. Stall holders sell cheeses, picking them up in their hands from the unrefridgerated tables, slicing generous chunks that sell for a fraction of the price you would pay in the USA or England.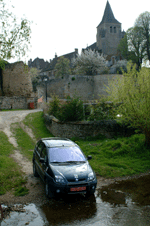 We stayed the night in Sancerre, an old town that encircles a conical hilltop overlooking the River Loire. Although you can drive through the old town, the best way to explore is on foot. Leave your car at the parking areas below the main town and hike up the steep streets to the main square, where there is a choice of street front cafes, serving a la carte or the more usual Prix fixee menus. These 'fixed price' menus are normally the best deal for eating in France - the more limited choice often includes the local specialties, as well as multiple courses. Smaller appetites can order a lesser number of courses, those with a hunger from roaming the steep streets can select up to seven courses! To walk off your meal, take a stroll around the perimeter wall of the town, which takes around twenty minutes.
The Scenic performed flawlessly as we meandered to the south, on a long, looping run towards Bordeaux. We chose the smaller towns to stop for the nights, picking hotels out of the guide supplied by Renault, or choosing our own that we happened upon. The prices were small, the accommodations comfortable, and the atmosphere unique. To the south of the cheese region of Rochefort Montagne (not to be confused with Roquefort) peaks of volcanoes rise abruptly up on either side of the road, towering in large abrupt cones. Here, moving south towards the Alps, the landscape is more dramatic and rugged. The fields are stony, cows and tumbledown old barns are everywhere. Forest regions intersperse the farmlands, mixed forest vegetation that is alive with constant birdsong. These areas make wonderful picnic places, where you can pull the Renault in, and share a simple picnic of bread, cheese, olives and wine under a shady canopy of living splendor.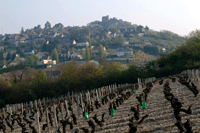 Ten days later, we arrived in Bordeaux for a visit with our Aussie friend. Her stone Charenteuse farmhouse sits solidly among the sunflowers and vines in the wine region of Bordeaux. A chance to rest from traveling, and sample a slower pace of rural French life, the local wines and ripe farmhouse cheeses. Time to relax and enjoy the simple pleasures in our own time. We had a few days before we completed our loop back to the north, to Cherbourg and the ferry to England.
The Renault was our vehicle for two months in Europe overall. As well as France, we took it to Spain, England, and Ireland, all without any further paperwork or expense. The vehicle performed flawlessly, needing only a wash of the windscreen and diesel to keep it moving. Being left-hand drive, it took a little bit of getting used to driving on the left in England and Ireland, but with an alert passenger to advise on the road ahead when overtaking large vehicles, it was a simple matter to adapt.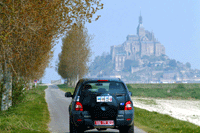 The return process for the vehicle, at London, Heathrow, was even simpler than the collection. The concierge at the Renaissance Hotel on the airport perimeter accepted the keys, and our only obligation was locking the vehicle and leaving it in their special parking lot. Renault sends the necessary paperwork in the mail afterwards.
In summary, the Renault Eurodrive program is a wonderful alternative to more conventional car hire arrangements. For those staying the minimum of seventeen days, the program is far more cost-effective, and offers greater flexibility than conventional car hire. The zero deductible insurance is a big drawcard, especially for those planning on traveling in England and Ireland, where the cost of sufficient vehicle insurance can nearly double the daily rental rates.
Renault's vehicles too, are of a consistent and reliable high standard. Although virtually unknown as a car manufacturer in the USA, they enjoy an excellent reputation in Europe.
Vive la difference!!
Bushducks © Bushducks 2002
All photos © Bushducks 2002
INTERESTED? VIEW RENAULT'S RANGE OF VEHICLES AND BOOK YOUR VEHICLE HERE -- CLICK THE RENAULT IMAGE BELOW


BOOK YOUR RENAULT EURODRIVE HERE

Home
Back Country Planning
Adventure Guides
Back Country Research
Adventure Reports
Bushducks Land Rover
Webbed Links
Email Us
Be informed when this site is updated: