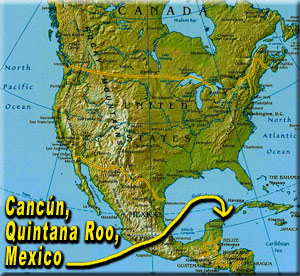 The Mayan Canopy Experience
Adventure Travel in Mexico
by Sheila O'Connor
"You want me to go down where?" I asked, peering down into the deep black hole descending before me into the ground. I shaded my eyes against the sun and squinted some more, hoping in vain to see the bottom of the hole. But I couldn't. It was too dark and too deep. The light source was only visible once you'd already reached the lake below.
I was at a rappel event, part of the Jungle tour I'd taken to Pac-Chen from our base in Cancun, Mexico. Rappelling into the 75-foot cave (or "cenote" as I was later to learn) was the second adventure of the day and the second activity I'd never tried before. 'Well,' I thought, 'it has to beat being stuck behind a desk!'
After watching the other nervous people survive the descent, it was my turn. I had the rappelling rope strapped around my waist and the guide told me to release the rope I was holding with my left hand. Next, I was to release the rope I was holding behind my hips with my right hand, just a few inches. How hard could it be? Terrifyingly hard, is the answer.
I had three steps into the hole in which to practice the technique. Pushing out with straight legs and putting my body at an angle was also part of the training.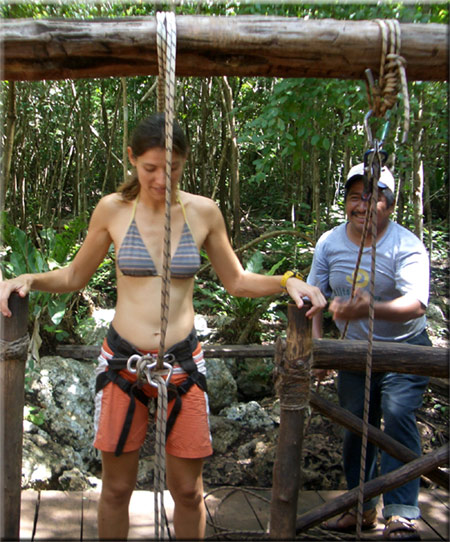 Preparing to descend into the cenote
The third step taken and there was no more security. After that, I was hanging in the middle of empty space, talking to myself, trying not to look down (I don't like heights) and slowly releasing one stretch of rope and then the other. Thank goodness it was dark; I didn't need to scare myself with how high up I was.
Despite a bit of rope burn on my hands (I think I went down too fast), the rappelling was over quickly. I landed in a nice comfy inner tube that was placed exactly where my backside hit the water. Ahhh, how soothing simply to float on the river, watching others rappel down, knowing they were as scared as I was, but knowing too how delighted they'd feel to have done it.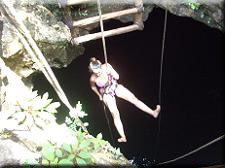 Getting up was actually easier. There was a choice of climbing up a rope ladder (sideways on the ladder mind you, straight on doesn't work when climbing rope ladders) or being hauled pulley-style by the workers up top. Everyone except the guide chose to be pulled up. Call us weak, but there were limits to how much adventure we could handle in one day. And we were, after all, on vacation.
And that was only part of the adventure. Our tour took us to traditional Mayan villages, where we shopped for some traditional jewelry, happy to help the local people. We then walked through the jungle and ended up at a mountain canyon that we could only cross by zipline. For those who have never done ziplining, you put a harness on each thigh, then the harnesses join at the waist, and a long line extends to a metal clip. That clip hooks onto a cable that goes all the way across the canyon. Sometimes ziplines are used to cross other difficult barriers, such as rivers.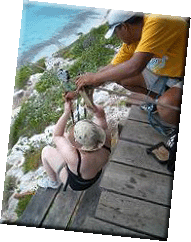 Ziplining starts high on a platform, where you get ready to jump off and launch yourself into the unknown, often at speeds of up to 40mph. Terrifying stuff indeed and I managed to talk myself out of it with every step I took up to the launch platform. After all, I can't even go on a roller coaster at home and anytime I go downhill skiing, I spend all my time just trying to slow down.
"I'm really, really nervous," I told the sympathetic Mexican who was hooking me to the cable. "Could you come with me?"
He smiled sweetly, told me to bend down as if I were sitting in a chair and then-go.
Obediently, I let myself move forward, instantly traveling faster than I had expected. Screaming seemed to be the only way to get through this frightening experience. But hey, half way down the cable, the view out over the pristine rainforest was stunning and I realized I was still alive, even enjoying the ride, and I stopped screaming. Instead, I waved one hand toward the crowd still waiting with trepidation on the platform, and yelled, "It's great!" And I meant it. It was so thrilling I'd do it again anytime!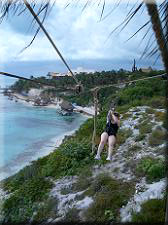 After a traditional lunch, the third activity of the day turned out to be canoeing on a peaceful freshwater lagoon, looking for birdlife or spider monkeys. That was a piece of cake! We'd done the hard work: the rappelling, the ziplining, and the walking through the jungle. Shopping, meeting the local villagers, and seeing some of their purification religious ceremonies were added bonuses.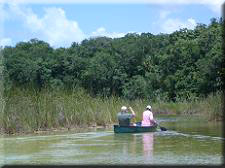 The final stop on the tour was at one of the Mayan ruins--not Chichen Itza which is mobbed with tourists and would take a whole day to get to just by itself--but the ancient city of Coba with its renowned Nohoch Muul pyramid, the tallest in Quintana Roo. The reward for climbing its 120 steps is an amazing view over the surrounding sub-tropical jungle. Coba is one of the oldest of the Mayan ruins in the Yucatan Peninsula. You can also see ruins of the simple housing used by the original people who lived here.
Don't think you're "adventurous" enough for all this activity? On our tour, there was one couple in their sixties with their 8-year-old granddaughter. Another pair of adventurers suffered from mild multiple sclerosis and diabetes. Everyone completed the day with flying colors. To be fair, not everyone climbed the 120 steps, but admiring them from the bottom of the monument must surely count for something. So age or fitness need not be a barrier, although if in doubt you should check with your doctor first.
In all, a great day out. Beats being stuck at the office any day. I guarantee it.
Further Information:
Alltournative Expeditions offer small group tours billed as "Love for nature and culture. Passion for adventure." Cost is $100 per person including transportation and lunch. Tel: (984) 87 320 36
And after a hard day of zipping, rappelling, canoeing, and enjoying Mayan life, you'll enjoy even more the luxury of a great hotel. We stayed at the Marriott Casamagna Cancun Resort. Tel: 011 52 998 881 2000, Fax: 011 52 998 881 2085.
For more information on the Yucatan Peninsula and the rainforest, visit http://www.travelyucatan.com/
When not swinging through the Mayan Canopy or descending into dark caves that terrify her, Sheila is at home in San Francisco working on her newsletter for writers, American Markets Newsletter, which contains both US and international markets. You can contact her at sheila.oconnor@juno.com.
© Sheila O'Connor, 2005
Photos © Sheila O'Connor, 2005

Home
Back Country Itineraries
Adventure Publications
High Country Pass Status
Adventure Travel Tales
Bushducks Land Rover
Links
Be informed when this site is updated: