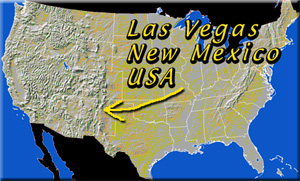 The Other Las Vegas
by Larry Tritten
I've never been to Las Vegas, and you probably haven't either. The Las Vegas I haven't been to is in Nevada, and the one I have been to but you probably haven't is in New Mexico. The two have about as much in common as Disneyworld and Deadwood, South Dakota, which is to say that one is a high-tech and futuristic fantasyland and the other is a place where the natural world and Western history companionably co-exist.
Las Vegas means "the meadows", but you won't find any meadows in Las Vegas, Nevada where the town is defined by its electrochemical bouquet of incandescent colored lights, its towering, revolving, and animated signs. I have nothing against such extravagant tableaux, but I prefer the other Las Vegas far from the glad clamor and merry chaos of the one in Nevada.
I flew over one Las Vegas to get to the other Las Vegas. I looked at the former somewhat wistfully as it faded like a mirage below the plane, thinking about all the noise and laughter down there. I'd been there vicariously countless times: from a mostly forgotten movie musical titled "Meet Me in Las Vegas", the original "Ocean's Eleven", and "Viva Las Vegas" through a spectrum of more recent movies (Nicolas Cage in no less than three!) memory serves up an extensive montage of scenes set in gambling casinos.

Colorful streetscape in the other Las Vegas in New Mexico

Yet the other Las Vegas, I would learn to my surprise, has also been the site of much movie action, mostly Westerns and these dating back to some of Tom Mix's earliest features (1913-1915). Mix wanted to make movies in authentic locales and it's easy to see why he chose this little town sixty miles northeast of Santa Fe at the base of the Sangre de Cristo mountains. The town boasts 918 buildings on the National Register of Historic Places and these streets were once walked by the likes of Billy the Kid, Doc Holliday (who owned a saloon here before he kept his rendezvous with history in Tombstone), and Bob Ford (who owned a saloon here after he shot Jesse James).

I stayed at the Plaza Hotel, which was called "the Belle of the Southwest" when it was built in 1882 before the other Las Vegas was even a railroad stop. There are 36 Victorian guest rooms, the Landmark restaurant, and a saloon that on some nights struck me as being as lively as "Gunsmoke's" Longbranch in Dodge City on a Saturday night. I was pleased to discover that the door to my room opened by turning a metal key in a lock instead of the ubiquitous plastic card --a sense of history is symbolized by just such small connections. However I should mention that the Plaza has lifted itself out of the 19th century to offer Internet access and cablevision to its guests. It also has a resident ghost. Room 310 is frequently visited by the ghost of a past owner of the hotel, who tends to prefer the company of women.

Directly across the street from the hotel is the Old Town Plaza. Huge elms and maples provide this park with its picturesque ambience. There's also an old-fashioned gazebo which provides a genteel contrast to some of the history, specifically the time in the 1880's when vigilantes took two men out of the Old Town Jail and brought them to the Plaza Windmill to hang.

Las Vegas is a town of fewer than 15,000 people and the best way to see it is on foot. At the Chamber of Commerce Visitor's Center you can pick up a detailed illustrated book created by the Citizens' Committee for Historic Preservation that outlines walking tours in the different sections of town. The Visitor's Center also has some great photographs on display. Especially fascinating to me were those taken in saloons in the 1880's that show the patrons confronting the camera with drop-dead stares--authentic hard case tough customers preserved in time for our consideration. In one picture I was surprised to notice what seemed unmistakably to be a pineapple among the backbar bottles and glasses and wondered just how common pineapples were in New Mexico in the 1880s.

The architecture of Las Vegas runs a gamut from one-story adobes to grand Victorians and all sorts of other 19th century styles: Queen Anne, Italianate, Greek and Roman Revival. At the corner of Sixth and Washington Streets you'll find the 1898 Lowery House, which has been described as "a cottage pretending to be a mansion." With its three roof styles, conical corner tower, Ionic columns, and spindle porch railings it looks like it would be appropriate in the suburbs of Oz. At Sixth and Columbia Streets the 1881 Mueller House has a three-story octagonal tower that overlooks Carnegie Park and the Carnegie Library, which was built in 1903 and modeled after Thomas Jefferson's Monticello.

There are scores of other vintage buildings to check out in town, but arguably the premier architectural attraction is five miles outside of town. The old Montezuma Hotel is a fortress-like red sandstone Queen Anne edifice reminiscent of the Overlook in Stephen King's "The Shining." Today the Montezuma is the main building of the Armand Hammer United World College of the American West, an international campus offering foreign students two years of liberal arts education. The campus proper is closed to visitors but you can have a literally colorful experience by visiting the Dwan Light Sanctuary, a place of reflection for people of all beliefs. Here the building's prisms are aligned to capture the light rays of the sun, moon, and stars and interacting spectrums create moving ribbons of pure color reminiscent of that in an old MGM musical movie.

The population of Las Vegas is 82% Hispanic, so it shouldn't be surprising that finding good Mexican food is easy. About two blocks from the Plaza, walking along Bridge Street, I discovered Estella's Cafe, which might be the best Mexican restaurant in New Mexico. This is the definitive Mom & Pop place, still doing business after more than half a century. No tricked up quaint decor designed to appeal to upscale tourists here, just food as authentic as any you're liable to find outside an actual family kitchen.

There are no restaurants along the lines of the other Las Vegas' Chinois or Le Cirque, but there are several with inconspicuous ambience that serve excellent food. The Mexican Kitchen is one of those, with memorable combination plates featuring four items. Charlie's Spic & Span Bakery & Cafe is another and its bakery items are fantastic, among them cream puffs that are the pasty equivalent of New York's Stage Delicatessen's deli sandwiches. With a nod toward more genteel dining, there is La Trattoria in the old El Fidel Hotel, serving Italian fare with some French influence, compliments of affable chef Edouard Waffelaert. And the tequila and lime-enhanced salmon I had at Blackjack's Grill was memorable in spite of the distractions of five lively female dinner companions.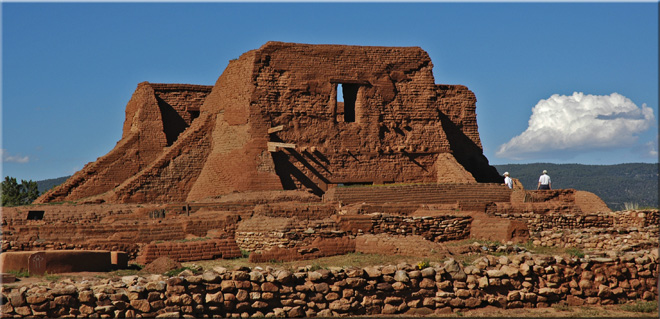 Pecos National Historical Park is a good day trip from Las Vegas

Some of my Las Vegas companions were motivated to rise with the sun and hike into a box canyon in the Las Vegas National Wildlife Refuge hoping to see some of the 270 species of birds therein. Being more history-oriented, I opted for the less kinetic appeal of such things as the Rough Riders Museum and a tour of the ruins of Fort Union.

The Rough Riders Museum is in a small building downtown and has a fascinating collection of memorabilia: saddles, uniforms, medals, weapons, and flags. It tells the story of the Volunteer Calvary unit in which Teddy Roosevelt served during the Spanish American War and whose history is linked with Las Vegas since 1899 when the veterans had their first reunion. where they enjoyed rodeo events, ballroom dancing, and an encampment in Lincoln Park.

In 1899 Fort Union, 20 miles north of Las Vegas, had been closed for only a few years. The ruins of the fort are now an outdoor museum site and not much is left except adobe walls and stone building foundations. Yet this installation was such a colossal size that touring the ruins made me think of Machu Picchu. This was the largest fort on the southwestern frontier with as many as 1600 troops stationed here. Touring the site with a diagram and trying to visualize the way it once was is a challenge to the imagination, and your interest is perked by the fact that this is one museum where the visitors are cautioned to be on the lookout for rattlesnakes.

Fort Union dates back to 1851

Finally, sobered to the point of solemnity by the infusion of so much dramatic history, I found myself at the Victory Ranch unexpectedly having a warm and fuzzy experience. There are no ponies and cattle at the 1100 acre Victory Ranch but rather a herd of alpacas in 22 different colors, shorn and unshorn, the former looking a little like Spielbergian aliens and all of them eager to snuffle grain out of your hand. The ubiquitous herd dogs compete with them for your attention and the whole scene is reminiscent of the painting "The Peaceable Kingdom" by Edward Hicks. There's also a large gift shop and clothing store and you can even buy a live alpaca if that's your pleasure. They get along with horses, cattle, sheep, cats and dogs, eat less than two pounds of hay a day, and you can buy one for as little as the reasonable price of my room for four days at the Plaza Hotel.

Further Information:
Information on Las Vegas, New Mexico
Las Vegas National Wildlife Refuge
A history of Fort Union

Larry Tritten is a veteran freelance writer who has been published extensively in The New Yorker, Harper's, Vanity Fair, Playboy, Rolling Stone, Travel & Leisure, National Geographic Traveler.

© Larry Tritten, 2006
Photos © Pat Canova, 2006




Home
Back Country Itineraries
Adventure Publications
High Country Pass Status
Adventure Travel Tales
Bushducks Land Rover
Links
Be informed when this site is updated: