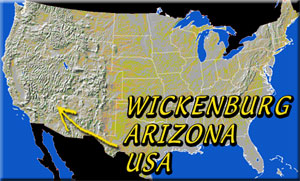 HoRspitality With a Western Flavor
by Lawrence P. Ball
In Wickenburg, Arizona, even if you're not a cowboy, you may soon find yourself speaking with a slow drawl and sporting the characteristic cowboy hat, boots, and Levis with a plaid shirt. While surviving Indian Wars, mine closures, desperados, and the desert, this town developed a western hospitality and ambience in the best traditions of the Old West. Locals pride themselves on providing friendly, down home, foot stomping, western good neighborliness and we were welcomed to the relaxed life style with open arms.
My wife and I arrived in Arizona via US Highway 10, driving our 4-wheeler and motor home, towing two horses. We then followed US Highway 60 as it snaked along the dry, Hassayampa River Valley (Yavapai Indian word for "river that flows upside down") before wandering into Wickenburg. Situated northwest of Phoenix on a flat, flood plain nestled among the Sonoran Desert foothills, this old western town emerges under crystal clear, blue Arizona skies like an oasis. A sign at the city limits welcomes travelers, announcing "Historic Wickenburg, Where the West is Still Wild".
Lush vegetation owes its existence to the submerged flow of the Hassayampa River and sets the town apart from the surrounding desert. Local officials with typical cowboy "tongue in cheek" humor once erected a "no fishing from bridge" sign at the bridge over the dry river bottom. The Hassayampa finally becomes a normal river in beautiful Box Canyon, north and west of town where a hard rock formation forces the water to surface.

After we settled the horses into the Horspitality RV Park and Stables we spent the rest of the day shopping and were greeted with warm, wholesome smiles and "Howdy do!" at stores named Cowgirl Salvage, Buckaroo Babes, The Refried Bean, Ben's Saddlery, Quarter Horse Ranch Antiques, Double D Western World and the Pony Expresso. The town has no big box stores but we found all our needs in the historic downtown. Retail shop owners and employees reminded us that Wickenburg is a cowboy town while the view out of the shop window revealed the ever present pickup truck pulling a horse trailer. We found retail stores selling everything from custom leather crafts and tack to western clothing, furniture, and a few featuring home decoration goodies offering unusual finds at attractive prices.

In the late 1800's Wickenburg was a Wild West boom town with silver, copper and gold glory holes and lots of calamity. The logo of the Chamber of Commerce is a cowboy hat, branding iron, and a spur and a recently formed economic development movement is committed to keeping the western flavor while addressing the needs of an expanding population. Later in our stay, we took a leisurely stroll around town using a walking tour map supplied by the Chamber, and enjoyed reliving past times in 21 historic sites and buildings dating from the founding of the town in 1863 to the early 1900s.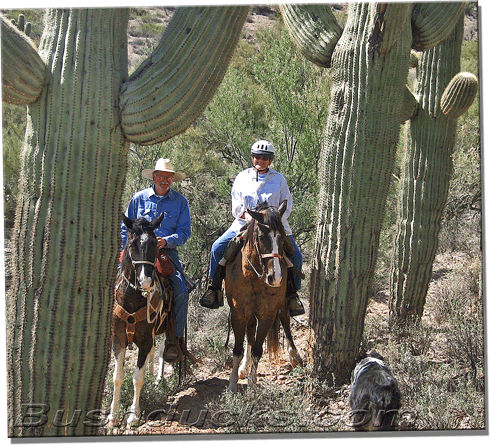 Winter, the principal season for the town, favors Snowbirds who with their ATV's, horses or mules in tow leave their nests in the cold reaches of the north and take up temporary residence for the winter in the RV parks, on guest ranches, and in hotels in and around Wickenburg. There is an abundance of government land to explore, no matter what is your favorite mode of transportation, and numerous local facilities offer the horseback temporaries roping, team penning and team sorting, and in the saddle fun.
The friendliness and welcoming nature of the townspeople is quickly adopted by new additions and the conviviality is infectious. Everyone behaves like old friends having the time of their lives. Most nights found us in this mixed population with a drink or beer in hand, playing shuffleboard, or dancing to western music in saloons and cocktail lounges where you'd expect to see Wyatt, Bat or Doc Holiday at a poker table in the corner. If your tastes do not run to the bar atmosphere, the historic single screen Saguaro Theatre offers recent box office smashes. As a youngster, Linda was a Roy Rogers Junior Ranger and was delighted to find that The Desert Caballeros Western Museum was featuring a collection of Roy Rogers memorabilia. The Museum is home to an extensive collection of western art, rotating special western collections and a depiction of a turn-of-the-century Wickenburg street, complete with a saloon and general store.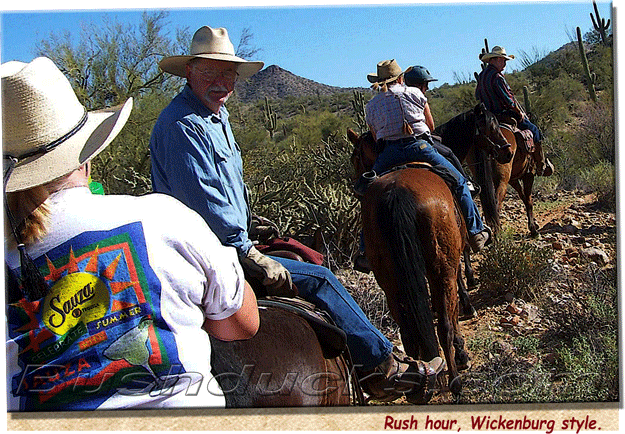 Besides a few fast food restaurants, there are many wonderful local eateries (The Frontier Café, Twin Wheels Café, Bar 7 Cocktail Lounge, Horseshoe Cafe, The Cowboy Café, Gold Nugget Restaurant and Cocktail Lounge) all of which serve mouthwatering specialties. We ate at all of them during our four month stay and did not find one that we would suggest avoiding. The quality of the fare makes doing your own cooking unnecessary.
There are five major guest ranches (Flying E Ranch, Kay El Bar Ranch, Rancho De Los Caballeros, Rancho Casitas, and Williams Family Hassayampa Canyon Ranch) scattered around the outskirts of town. A couple are working cattle ranches providing stock for every western sport imaginable as well as making golf, tennis, hiking, hayrack rides, swimming and other leisure activities available. Linda and I celebrated a second honeymoon one night at "Los Cab", the local's nickname for the Rancho De Los Caballeros. The ambiance of main lodge was like a high quality western decorator's showroom and our snug cabin was sumptuous with a comfortable patio, a panoramic view and built-in Indian oven-style fireplace.
Your 4-wheeler, horse or ATV will enjoy their stay at one of the five RV parks, some of which have stables and plenty of desert in which to ride just down the trail. My favorite is "Horspitality RV Park" from which I stole part of the title of this article. They have room for 80 horses, at least 100 RV sites including pull through sites for the big guys, other onsite activities such as bingo, game night, Thursday and Saturday night at the movies, and a weekly steak fry at the bonfire. The park opens out onto the dry Hassayampa River bottom and approximately 2000 acres of BLM land where 4-wheelers, ATVs and horses coexist in peaceful harmony. We simply opened the gate from horseback and rode out onto the river bottom and into the desert canyons and hills. Several times the trips took five or six hours without duplicating the scenery. As spring arrived so did a profusion of beautifully flowering cacti and other desert plants.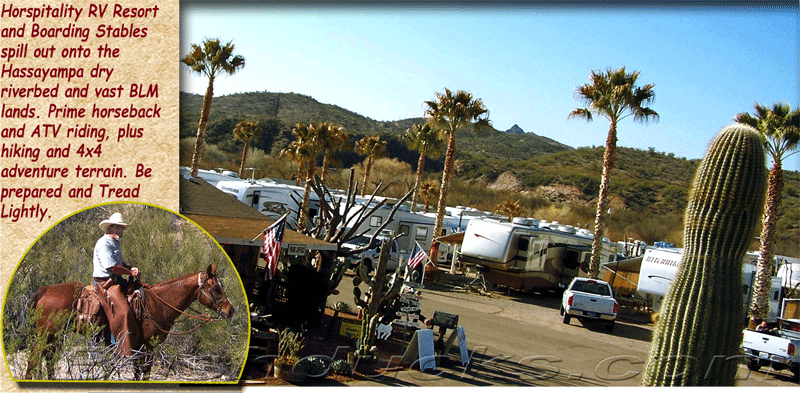 Several generations of the Robson family have worked creatively to preserve the mining heritage of the area and to provide an adventure strolling through their Mining World. This carefully recreated ghost town is a window into life in the early times and mining activity of the surrounding area. We strolled the streets, imagining what life had been like in the late 1800s and early 1900s when this was a bustling beehive of frontier activity.
Another mining history attraction a few miles out of town, the Vulture Mine founded by Henry Wickenburg, is now an amusement attraction; legend has it that Henry discovered the gold mine while searching for a vulture he had shot. You can return to yesteryear on a self guided tour of either of these mines and surrounding buildings.

The highlight of our visit was the second full weekend in February when the town celebrated Gold Rush Days with a senior pro rodeo, carnival, parade, melodrama, art and crafts display, mock gunfights, gold panning and booths selling every imaginable western collectible.
Other events of the year are The Desert Caballeros Horseback Ride, three days in April, The Hispanic heritage Fiesta Septiembre in September, The Fly-in and Classic Car Show in October, a Blue Grass Festival in November and the Cowboy Christmas and Poetry Gathering in December. We found the winter nights cool to chilly, the days warm, clear and invigorating and the landscape covered with palo verde, creosote bushes, mesquite and a host of cacti waiting to provide us with an afternoon of thorn removal.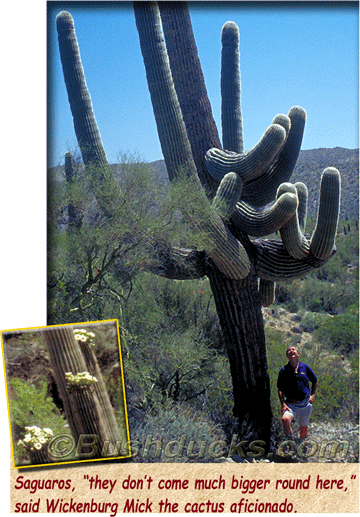 The advent of the railroad established Wickenburg as a serious city so it seems only fitting that the Chamber of Commerce and visitor's center is situated in the historic 111-year-old Santa Fe Depot. A 200-year-old mesquite tree preserved at the corner of Tegner Street and Wickenburg Way was used as a jail where early ruffians and criminals were tied up and it is reputed that no one escaped.
For the adventurous the town is ideally located for day trips to Quartzite (the largest swap meet in the world), Prescott (a memory generating cowboy town) Sedona (a scenic Mecca in the red rock country), Oak Creek Canyon (a uniquely beautiful drive along scenic old Highway 89), the sights and events of Phoenix and for the really adventuresome, the town of Oatman, Arizona on Route 66, (featuring free roaming burros whose ancestors worked the mines) and of course, the Grand Canyon.
You can find out further details about your visit to Wickenburg at the Chamber of Commerce, 216 North Frontier St, Wickenburg, AZ 85390 (www.outwickenburgway.com) by email or by phone on 928-684-5479.
Further Information: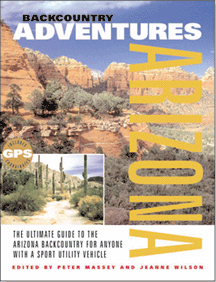 Back Country Adventures: Arizona
See little-known scenic areas of the state from your 4wd. 155 trails around Phoenix, Tucson and Flagstaff, all National Forests, KOFA NWR, Navajo Nation, Sedona, Colorado River and MORE.
Now available as regional guides for your glovebox:


Comprehensive Wickenburg site
Interesting site run by Wickenburg residents

Lawrence Ball is a 72 year old kid at heart with a lust to see new places and experience new adventures. He has taken several solo trips to parts of the USA he did not get to see while he was a working stiff. His first trip was for 6 months thru the South. Every few days on the road, he would stop and write a description of his journeys to email to friends. Lawrence has three grown children and four grandchildren living in Lake Tahoe and the East Coast. Someday he hopes to own a Range Rover! You can contact him at lball@earthlink.netor visit his website at www.hrmgtnetwork.com
© Lawrence P Ball, 2007
Photos © Lawrence P Ball, 2007 and Bushducks 1999-2007

Home
Back Country Itineraries
Adventure Publications
High Country Pass Status
Adventure Travel Tales
Bushducks Land Rover
Links
Be informed when this site is updated: