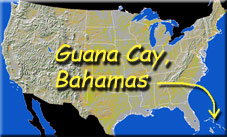 Deep in Guana:
Great Guana Cay - Abaco, Bahamas
by Carol Reed
Each time I pack my bag, I fill it with hopes of finding the island of my dreams. And Great Guana Cay, an out island of the Bahamas, is the stuff that quirky and enchanting dreams are made of.
Guana is part of a pristine, 130 mile chain of out islands called the Abacos; kissed by trade winds and blessed with luscious, clear blue waters. The islands are peopled with descendants of Loyalists who fled the American Colonies after the Revolutionary War. These hospitable folks make a livelihood from the sea, or by hosting small businesses and inns that exist in a dreamy time warp. This mini-paradise is not to be confused with Nassau or Freeport in the Bahamas, as you will see.
I arrived at Guana's harbor-side docks via the family-run Albury's ferry. This tiny crescent shaped anchorage is ringed with a small marina, a few eateries and provision shops. When we disembarked, we were met by cottage staff in golf-carts (there are no major roads for cars). They picked up our luggage, delivered it to our rooms, and then returned to pick us up in the same golf carts.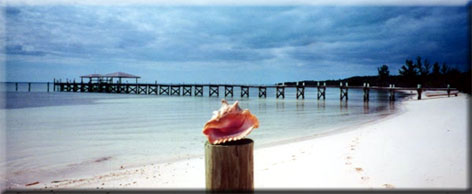 Sun, sand, and solitude on Great Guana Cay


There is no actual GOLF on Guana, merely the carts, which are used as a primary form of transportation. They can be rented by the day or week, and add a hilarious aspect to exploring the island's mostly limestone, scraped-out roads, miniature wildernesses, and glorious beaches. A "traffic jam" on Guana involves two golf-carts trying to pass one another as you smile and wave.

Guana's ocean-side, which is only a brief cart ride from the harbor, offers the romantic solitude of nights so starry-bright that I could make moon-shadow puppets against the dunes. The days invite wearing only a bathing suit and a dazed grin of bliss. It's an easy beach stroll to several dune perched pubs. Local conch fritters with peas 'n rice are best eaten alfresco, overlooking the turquoise Sea of Abaco.

Guana's beaches are circled by an impressive barrier reef that can be reached by swimming out from shore or by rental boat. Motor boat rental is an uncomplicated matter in the Abacos, and designed to accommodate visitors. A bit of boating experience is helpful. Fishing is said to be great, but I prefer to see my fish face to face. The rainbow inhabitants of the reef became some of my very best snorkel buddies. Do bring your own fishing or snorkel gear if you have it. There is a dive shop on Guana, and several on the main island of Marsh Harbour for scuba gear.



Hopetown Harbor &- candy-striped lighthouse (another Abaco outisland near Guana)


The tiny post-card settlement (seven miles long, 150 full-time residents) and its small-town charm are a major part of Guana's attraction. Lodging is unpretentious, in cottages or picturesque, low-key complexes. Architectural style reflects Abaco's Colonial-Loyalist past with a twist: New England mixes with the passionate pastels of the Caribbean. Bougainvillea melts over white picket fences, and hummingbirds flirt in the front yards. I didn't stumble over Donald Trump (don't expect many services or high-maintenance) nor over annoying beach vendors. Instead, I stumbled down for free coffee each morning, beachfront, compliments of my genial host.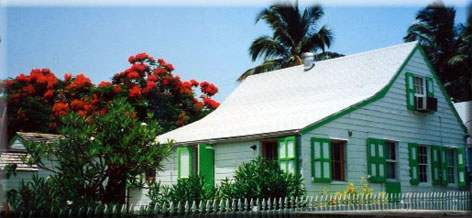 New England meets the Carribean


My host, and other entrepreneurs on the island, are unaffected folks and the characters that ballads are made of. They spin many a fascinating yarn, some of which may actually be true. Many residents are descendants of the original Loyalists and will share stories from their historic ancestry. We enjoyed meeting Aubrey, who, although not formally schooled, was an island encyclopedia and a political satirist. He told tales of the old Abaco wrecking trades accompanied by a wink: "Ministers on Guana, in order to supplement their meager income, used to be wreckers as well. Their church pulpits intentionally faced toward the sea. If a ship began sinking during a sermon, the preacher would solemnly tell his congregants to 'bow and pray.' While their heads were down, the minister would rush out, guaranteed to arrive first at the shipwreck claiming the salvage rights and the income!"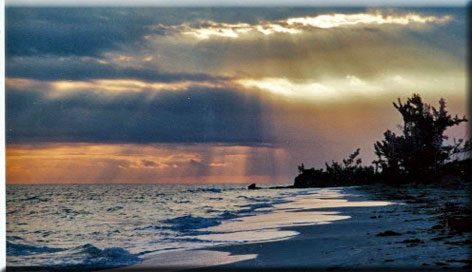 Sunrise, Great Guana Cay


Around Guana, visitors are quickly included in the community with a friendly greeting. Local folks there enjoy a chat. There is no hard sell, no fancy destination resorts, and no jet-skis. You make your own schedule based on sea, beach, board games, dining, star gazing, or hammock swinging. (The island-wide Easter egg hunt takes place on the beach, with prize-filled plastic eggs hidden in the shallow water. Kids don snorkel masks to find their prizes in the warm, crystal sea.)

Guana Cay, Abaco, is a postage-stamp paradise where one can escape from hustle, crowds, and stress. It is a place that harkens back to simpler times and friendly, delightful folks. Cell phones probably won't work there, and ATMs don't exist. But there is tranquility, and miles of pink sand that has seen no footprint but your own. It is a destination where you follow your own wishes at your own pace.

Is it any wonder that I fell deep into Guana?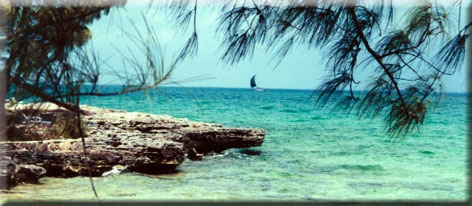 Further Information:
If you go: Fly from Miami or West Palm Beach, Florida to Marsh Harbour, Abaco, Bahamas (one hour flight). Cabs are waiting at the airport (price controlled) that will take you to the Albury's ferry dock (specify Guana, as there are two ferry docks). Regular ferry service goes to Great Guana Cay, a 20 minute ride, several times a day. Have the ferry captain radio ahead, and a golf cart from your accommodation will meet you.
Visitors can also book rooms with a bit more doings on the main island of Marsh Harbour and take a ferry over to Guana for the day.
General Information:
www.abacos.com/guana.html
www.go-abacos.com/mapart/marharmap.html
Dive information: www.diveguana.com/
Carol Reed is a "fiftyish" freelancer whose adventures have appeared in "Caribbean Compass", "Northeast Sailing Life", sites on the web, and in the "destinations" page for New Jersey's "Curious Parents." Carol also edited the recently published book, Between Midnight and Day- the Last Unpublished Blues Archive, by Dick Waterman. Carol's travels have taken her as close to home as the New Jersey Pines, as far south as the windward and leeward Islands, New Zealand, and Australia. You can contact her at cryll@softhome.net
© Carol Reed, 2006
All photos © Carol Reed, 2006

Home
Back Country Itineraries
Adventure Publications
High Country Pass Status
Adventure Travel Tales
Bushducks Land Rover
Links
Be informed when this site is updated: