Crown King and the Bumble Bee Sting
by Mary Peirce Bale
Have you ever driven past an intriguing road sign that points the way to places such as Bumble Bee and Crown King, places that seem to beckon the inner Lewis and Clark explorers within you? I had passed such an exit ramp on I-17 on numerous trips to Prescott and Flagstaff to escape the inferno summers in Phoenix. I had often wondered if it would be worth the 28-mile drive over very rough terrain to view Crown King up close.
We studied our Arizona road atlas, and we decided we would try the six-hour "back road" route to Crown King, instead of the hour and a half drive via Route 17. Finally, on a crisp, Saturday morning we headed up that way in our Ford pick-up.
Getting There: The Carefree Highway (Route 74) led us to the turnoff for Lake Pleasant where the forest road took us past the Hieroglyphic Mountains into Hells Canyon Wilderness to Castle Hot Springs. The saguaro cacti looked as if they had been plumped with water and the desert shrubs radiated vibrant green after the recent monsoon rains. A broad spread of peaks came into view as our vehicle climbed out of jagged ruts and bounced over lopsided humps, heading deeper and deeper into the wilderness.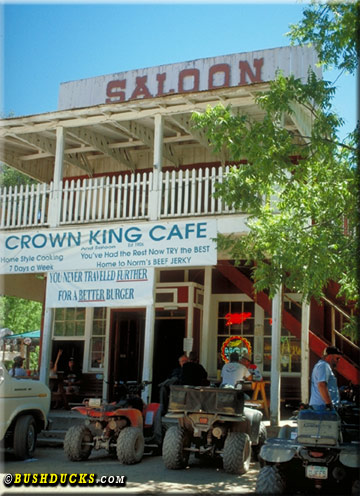 The Crown King Saloon sees a busy trade from recreationalists

After fourteen miles and three hours of intense jostling, we determined the Crown King Back Road was too rough on our bones as well as on the pick-up since there still were twenty-two miles left to the summit. (You can find detailed information on this road in Backcountry Adventures: Arizona) Castle Rock Road led us back pass the glimmering lake on to the main road to Route 17. Our truck cruised along the highway and rolled off the Bumble Bee-Crown King exit #248. Here, we navigated the graded road easily as the pick-up wound its way up a side of the Bradshaw Mountains exposing us to panoramas of mountains and valleys. We scampered by Bumble Bee, an old stagecoach stop on the Phoenix-Prescott stage line. Then we picked up Forest Road 259 by Cleator, a railroad station between Crown King and Mayer near Crazy Basin Creek. It was about noon and our tummies were growling when we arrived in Crown King, after our tires had kicked up a wake of dust for two more hours over the old railroad grade. We shared a tailgate picnic before we explored the town.

Crown King Tidbits: At last, my curiosity was sated as I strolled down Crown King's main street. Pinecones dangled from weighted branches of the tall fir trees. Prominent old buildings such as The Crown King General Store, The Crown King Saloon, and Bradshaw Mountains Ore House sit on the road's edges. Each structure has its ghosts and its legends dating back from the mid 1800s. According to crown-king.com/history, George P. Harrington, an Illinois banker bankrolled the Crowned King Mine that was the mainstay of the town. Miners pulled out more than $2,000,000 in gold from the Crowned King, and surrounding mines were found to be rich in ore. Thus, a railroad line was built to Prescott to haul ore and supplies.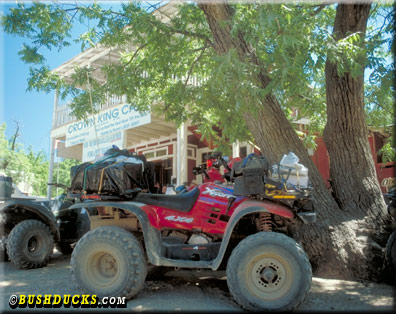 The best way to get the taste of Arizona dust out of your mouth is to wash it away
I walked up a steep hill and ran into the Prescott National Forest Crown King Ranger Station, the oldest ranger station in Arizona. Several sturdy, stone buildings housing an office and vehicles still stand on the site. Year round and summer homes perch on hills or snuggle among the numerous trees in and around the town. There is even a red schoolhouse built in 1917 where students still attend classes from Kindergarten through eighth grade. Some older relics such as the miners' homes have been converted into residences or home-based businesses. For a dusty backwater, Crown King still attracts its fair share of visitors. The entire time we were in Crown King a steady flow of jeeps, all terrain vehicles, and motorcycles drove down the dusty street. Before we left town we hiked an irregular trail in the forest where the sweet pine aroma and pristine air bathed my lungs.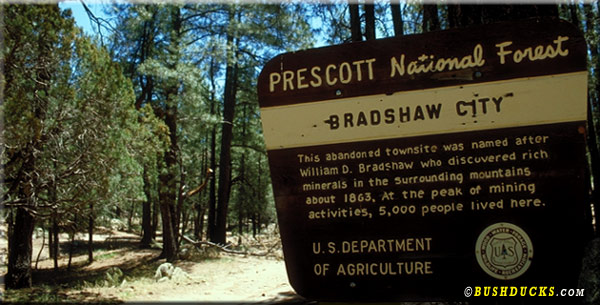 On To Prescott: We headed out of town following the forest road, in search of the Senator Road to Prescott. On this leg of our journey, we encountered intense hairpin turns as we drove through sections of mansanita trees, dense brush, then pines and hardwoods on Tuscumbia Mountain. Our heads flopped, our necks cranked, and our bodies rolled back and forth in tandem with each swerve. This type of road seemed to be made for ATVs not for bouncy pick-ups. Several forest road signs we saw indicated it was 21 miles to Prescott on these switchback roads. We missed Forest Road 52 and we ended up at Palace Station. This stagecoach station, halfway between Peck Mine and Prescott, serviced travelers in the mid 1800s. The original pioneer log structure stands on a hill above Spence Spring where Alfred Spence built the cabin in 1875. It is listed on The National Register of Historic Places under public domain of Prescott National Forest. This spot was a welcome respite from our arduous journey.
We finally got on the Senator Highway, an easy 38 miles to Prescott. Prescott was a welcome sight, a place where we could stroll around the Court House grounds and take in the arts festival. While we were strolling around, a bumblebee decided to jolt me back to reality with a piercing sting on my right forearm. I applied ice and took my mind off of the pain by viewing the art displays on the square. We shared a delicious pizza at Bud's place then we drove home via the conventional freeway.

Oh, yes it was worth taking that exit off the freeway to navigate endless, winding roads, to view nature's palette up close and to let her sights, smells, and sounds brush up against me. Despite the bumblebee sting and the stiff neck my husband suffered for several days after, it was the precious time we shared exploring these off road places settled by hardy pioneers and the memories of our adventure on the road to Crown King that will linger.
Further Information: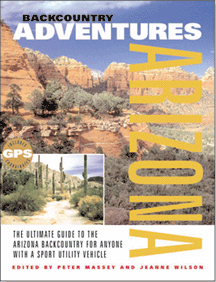 Back Country Adventures: Arizona
See little-known scenic areas of the state from your 4wd. 155 trails around Phoenix, Tucson and Flagstaff, all National Forests, KOFA NWR, Navajo Nation, Sedona, Colorado River and MORE.
Now available as regional guides for your glovebox:


Other websites of interest:
Crown King's website
Prescott Information
Prescott National Forest Information
Mary says: During my 15 years in Arizona my husband and I did a lot of off road travel in some of the most scenic yet at times pristine areas. I just had to put pen to paper and write about our unique adventures. The fact that some of my articles were published pushed me to write more.
You can contact her at mary_poetgal@yahoo.com.
Text ©Mary Peirce Bale, 2005
Photos © Bushducks, 2001-2004

Home
Back Country Itineraries
Adventure Publications
High Country Pass Status
Adventure Travel Tales
Bushducks Land Rover
Links
Be informed when this site is updated: