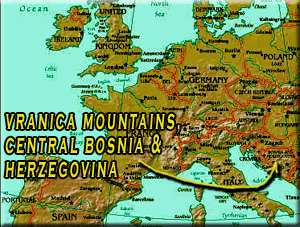 Battered and Beautiful: Bosnia and Herzegovina
by Bushducks
We knew we were in the Bosnian interior when the major highway turned into a single-lane dirt track. Getting our hands on a map had proven hard, now progress on the ground was near impossible. Only two hours into Bosnia and Herzegovina, the light fading in the hot muggy evening, and we were hopelessly bushed.
The shiny white Mercedes that was tracking our every move, mirroring our purposely varied pace along the rough winding canyon road, boosted our perspiration beads to uncomfortable levels.
When we pulled over to consult our woefully inadequate map once more, the Mercedes roared past.
Phew! Well at least someone knew where they were going.
Bosnia and Herzegovina isn't exactly an easy country to visit. It's not its location; indeed, cradled in Croatia's embrace its geographic position is fairly central in Europe and easily accessible. One hour from her borders will see you on the well-trodden highways of Croatia, Slovenia, and Hungary. No, what sets Bosnia apart is the mental challenge. The sheer lack of expectations beyond known city breaks destinations. We sought more than Mostar and Sarajevo. Simply turning on the autopilot and kicking back to Mozart was not what brought us to Bosnia. Highways here evaporate into 4wd tracks which blended well with our MP3 playing "The Rocky Road to Dublin". Unlike elsewhere in rural Europe, hotels, motels, guesthouses, and campgrounds simply don't exist. What appears to be a major town on the map can turn out to be a devastated village. A no go zone for all. Safety beats a blast from the past, anytime.
Back to our dilemma. Night had fallen, and our GPS was bleating "no signal" in the tight canyons. The easy highway to a village in Kozara National Park shown on our map, had turned into a navigational challenge. Perspiration evaporated as we retraced our steps back to the border town of Gradiška and found a welcoming, air-conditioned, motel.
Refreshed, after a sturdy breakfast of bread, cold meat, cheese and thick, dark coffee, we set off confidently the following morning. In no time, we were traveling along another narrow, potholed road. You guessed it, a major highway per our trusty map.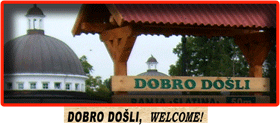 Driving in Bosnia, it is immediately apparent that this is still a wounded land. The war of 1990-1994 left no part of the country untouched, and thirteen years later, the effects are everywhere. Every village has buildings peppered and scored with shrapnel and gunfire, and houses are left to crumble into ruins as the threat of landmines and live ammunition is too great. Every town is a haphazard mix of the old and new, as public buildings, housing, and offices are rebuilt, often in a purely functional style. In the countryside, and indeed the towns and villages, red signs warn of landmines.
Jajce is a case in point. Built on a promontory in the heartland of Bosnia at the confluence of the Vrbas and Pliva rivers, during the war it was so hotly contested that the entire population evacuated the town while opposing armies fought for control. Sitting immediately below the current boundary of the province designated as Republika Srpska, Jajce was devastated, although luckily much of the historic center survived.
After the war, the population returned, and the town is gaining a reputation as a popular tourist stopover. There are hotels and restaurants around the hilly town, stringing up and down the Vrbas River, and the campground reopened in 2006.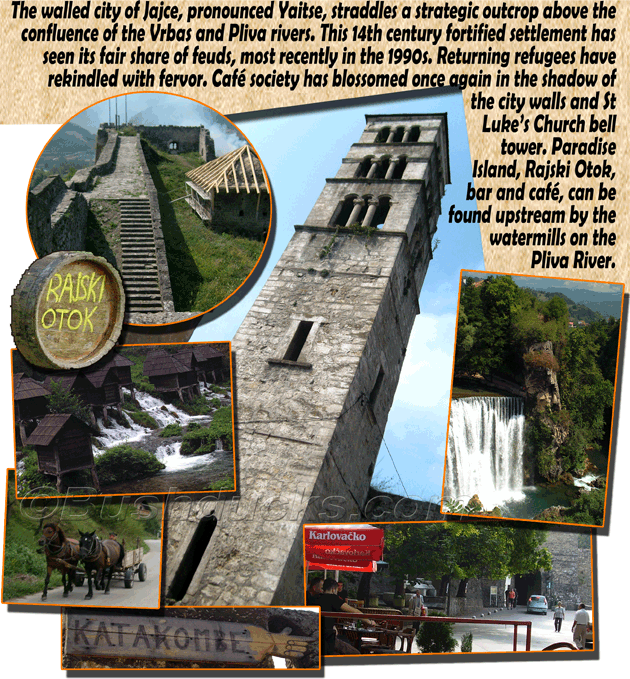 Walking around Jajce, the efforts at tourism are obvious. Tour coaches now stop at the overlook for the town's two-tier waterfall on the Vrbas River, and tourists visit the string of cafe´s by the old town wall, serving the usual thick coffee and cevapcici, the doughy flat bread with small spicy sausages. Entering the citadel that looms above the town, an enterprising local offered tours of this freely open attraction for one Konvertible Mark. But the veneer of tourism sits somewhat uneasily alongside the power station, which blankets the town in a pall of smoke, and the thick layer of garbage beneath the clear blue waters of the Vrbas River. Habits borne of necessity in harder times are not instantly shed when some measure of comfort returns.
One sight you shouldn't miss is the tiny Turkish watermills that spread over the cascades on the Pliva River. Housed in wooden buildings ranging in size from a dog kennel to a garden shed, the river strings its multi-braided threads through their churning wheels.
Leaving Jajce, we continued further into the center of this heart-shaped country, up into the mountains of central Bosnia. A well-traveled dirt road took us along a meandering valley, where every house was ruined and overgrown, scarred with the signs of war. Red mine warnings were scattered as thickly as currants in a bun, and only one family had returned--or maybe moved in--to the valley, and were living a perilous existence in a half-ruined house. Children and goats ran together around the line of washing, and the meager vegetable garden.
The road swung out of the valley, climbing up into the Radalj mountains. Even a short distance from the former Serbian-Bosnian frontline, the villages were more robust, and had a settled look. A local bus rattled past, taking workers to the nearest town, or out to work the land. As late afternoon turned slowly into evening, we found ourselves on a saddle at 1000 meters altitude above the town of Turbe. Around us were hayfields, and a dozen cows grazed peacefully. Could we, we wondered, mindful of the warnings of our local contact not to stray away from well-traveled areas, camp safely here?
"Turbe was the front line," texted Toby, our local contact in Bosnia and Herzegovina. "Be extremely careful!"
Our careful assessment was borne out a short time later when the cow-herder from over the hill wandered over to check us out and say hello. With our two words of Bosnian (Dobre, meaning good, and Kvala, meaning thank you), a map, and a lot of sign language, we soon had a good conversation going.
Fine to camp here, signed our smiling inadvertent host. Nothing to go boom! Not here. But don't go there." And he pointed a mere hundred or so yards away, in an undisturbed patch of scrub. "BOOM!"
Our camp was beautiful and peaceful, and the setting sun rimmed the long valley down to Travnik in a golden glow. The occasional tractor rattled past, its trailer laden with workers returning to town, who responded to our waves with some amusement. Our new cow-herder friend returned to his house in the next village, leaving us alone.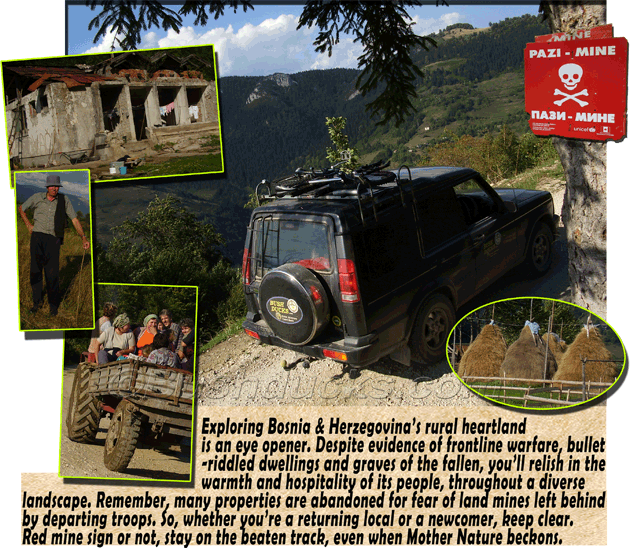 The mines are the most lingering physical effect of the war. The Mines Office in Sarajevo produces maps that show minefields. Around front lines, and strategic towns and villages, these maps often show thick cordon of red. Up on high mountain areas, or open plains the map can be empty. The maps are compiled from known areas of minefields and from the records and memories of all sides in the military conflict. However, the mine office admits it only has approximately 60% of the minefields accounted for. And strangely, the public cannot purchase or obtain these maps for non-specific use. The office guards them diligently, and will only release small areas of information for specific purposes--useless for backcountry travelers with no fixed destination.
So for the backcountry traveler--whether on foot, bicycle, or four-wheel drive--the mine danger is a real one. But it isn't insurmountable. For the quiet road traveler, common sense and awareness of your surroundings plus more than the usual amount of caution should see you safe. If you plan on venturing off the paved roads, it is important that you stick to obviously well used dirt roads, and don't venture into unused areas or derelict buildings, or forge a new path, even on foot.
Hikers, bikers and those whose route takes them along less-trodden ways should give serious consideration to hiring a local guide. This was our plan. In the central Bosnia mountains, we were meeting up with Toby Gough and Sǎro, who together with Toby's wife, Mirén, run Bosnian 4x4 Mountain Safaris, a Bugojno-based company specializing in off-road travel. Their five-day tours lead you, in your own four-wheel drive (fully escorted tours coming in 2008), through the mountains and valleys, traveling on dirt roads and tracks tailored to your preferred level of difficulty, from easy dirt road to hardcore-extreme 4x4.
Toby and Šaro say they will show you the real Bosnia, and indeed the next morning, five minutes after our arrival at their house, we were sitting with them under the laden plum tree while Toby served us coffee and small glasses of the local distilled plum brandy, Šljivovica. In October when people distill from the plum trees, using their own stills in the houses, the air is thick with the smell of it.
Toby and Šaro packed up their Lada Niva, and a couple of hours later, they were leading us out of town, along the Uskopljanska Valley before turning to climb up into the hills on a granitic dirt track. We wound through pine and rowan trees, following the capable Lada through some axle-twisting ruts that gave the suspension a good workout, climbing up to 1500 feet above the valley floor. Glimpses back through the trees, or from the many grassy meadows along the way showed the line of the valley, the haze of Bugojno a blur in the distance, and the regal peaks of Karlin and Rudina rising up on the far side.
The sun was still slanting warm rays over the hillside as we pulled into a quiet field surrounded by trees in the foothills of Radusa. This was Šaro's family block for many generations, their holiday cabin when they wanted to get away from the town. Šaro and Toby sprang into action: while Šaro built the campfire, Toby spread out a plush red rug, and placed the traditional low, round wooden table on this, surrounded by large floor cushions. As the fire burnt down to cooking embers, we drank more Šljivovica from the traditional small glasses, shaped like tiny flower vases with a narrow neck and bulbous base. Šljivovica is a social drink for sipping and savoring, not knocking back in a single gulp, so these čokan s allow you to enjoy the flavor of the drink without being overpowered by the smell. Sip and savor we did, while also enjoying the traditional accompaniments: a young, fresh cheese called Mladi Sir, meaning literally "young cheese" and tender slices of smoked meat.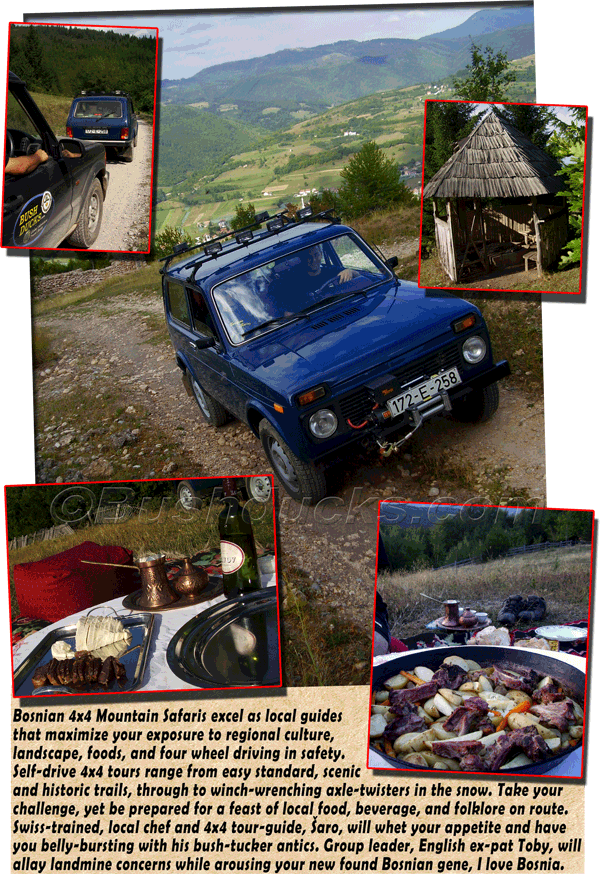 Dinner the first night was cooked in a traditional Bosnian Šač (pronounced "sutch"). It is a large, shallow metal pot, with a domed lid, that is placed on the coals, with embers heaped on the lid. The ingredients were simple: veal chops, and potatoes, onions and carrots freshly dug that morning from Miré n and Toby's garden. It was a dry, flavorsome roast, and served with a side dish of raw cabbage thinly sliced and sprinkled with lemon and salt. Reclining on the rug, cold beer in hand, and watching the lights in the valley far below seemed like a pretty good end to a good day.
The next day, Šaro showed us his great great grandfather's grave, high on the hillside above the cabin. The traditional Muslim headstone bears an unusual inscription: "Travelers rest here and be welcome. He died because of the greed of his wife and don't forget there is no worse beast when the greed takes her heart." The grave is in a peaceful spot, in stark contrast to his death in 1901--cut down with an axe by relatives of his wife's lover. His wife had arranged the killing to be free to marry her lover. But the best-laid plans have a habit of going wrong, and the killers were caught and imprisoned. The wife, the brains behind the idea, was executed.
We descended back down into the Uskopljanska Valley and up into the mountains on the east side. Here again, we had a choice of difficulty, and we opted for "easy and scenic". We climbed slowly out of the valley, switch-backing up the side of a mountain to emerge at the top of the world. Grassy tracks across a wide meadow led us to a sharp, steep drop with a stupendous view. Known locally as "The Mountain House", there's a refuge here for shepherds and travelers alike, where you can pass the time over a coffee or a glass of brandy.
From the Mountain House, the single trail contoured around the side of a sheer valley leading up to Sarajevo Door, a notch in the hills separating one valley from the next, where the snow is first to gather in December and last to leave in May. There were a few vehicles along here, mainly locals driving ancient Land Rovers parked precariously on the shelf road while their occupants picked baskets of bilberries to make into a tonic used to purify the blood.
A steep descent down from Sarajevo Door took us to the shepherd's village of Prokoško, nestled by a small lake of the same name. The gray weathered timber cabins act as the base for the shepherds while their sheep and goats graze the high pastures in summer time. In winter, snow closes the main access road to the east and the skewed shingles gain another patina from the winter weather.
Our camp was a crease in the valley through which a busy stream bustled and sang. Šaro cooked dinner again, roasting a chicken the Bosnian way, his kitchen utensils being some peeled sticks, beer bottle caps, nails, and fencing wire. After seasoning the chickens, he nailed them to the sticks using the beer caps as washers, and stretched the limbs out and secured them with wire. Two upright forked sticks made a makeshift rotisserie and Šaro squatted down, beer in hand, to the peaceful task of turning the chooks by hand on a makeshift rotisserie of branches.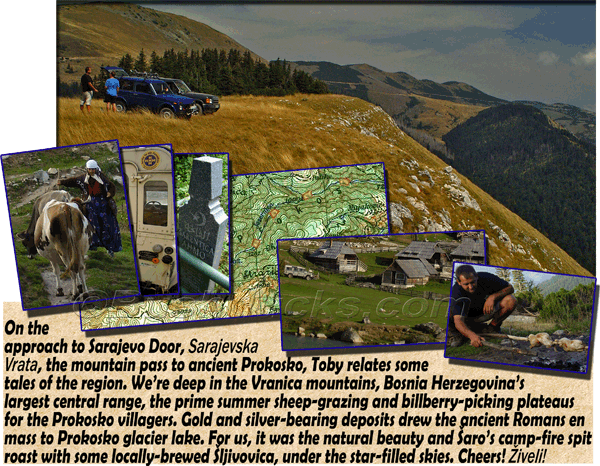 He served the chicken on the low table, with thick hunks of fresh white bread and a simple salad made of chopped onion, cucumber, garlic, and thick natural yogurt. We tore into the chicken with our fingers, ripping and stuffing the juicy meat into our mouths with the fresh bread, licking greasy fingers and chugging it down with sweet Bosnian wine. It couldn't have been better!
Our days spent in the company of Toby and Šaro had shown us a Bosnia we could not have safely reached by ourselves. Their local knowledge had taken us to places unmarked on any available map, and had done so safely and responsibly, yet without shielding or isolating us from the true Bosnian experience. So many tours lead participants around in a cocoon of glamour, presenting a country with a smooth veneer, all the edges rubbed away until only a muted, homogenized experience remains. With Bosnian Mountain Safaris, we'd seen the country as it really is: a little tattered around the edges, but with some of the most stunning landscape and genuine people we've come across in our travels. This isn't the destination for a generic holiday; Bosnia is a destination to feel and experience through the senses, making memories that will remain long after the golden beaches and cocktails of other more comfortable destinations have faded.
Bosnians have a word, Telečaci, which means "doing nothing after a good meal." Telečaci is a state of mind, a bit like being Bosnian. A small campfire, a sunset, and a view over the valley, and Telečaci is the perfect word.
"I live for this," said Šaro. "My country. The Nature. No one can take it away."
We couldn't have said it better.
Further Information and Facts for the Traveler:
EU passport holders and those from the U.S., Canada, and Australia need not apply for visas for stays of up to three months; it's enough to turn up at the border and drive in. Be prepared to show vehicle registration papers and proof of insurance. Many insurance companies now include Bosnia and Herzegovina in their Green Cards, and this is sufficient. If yours excludes it, then you can purchase the minimum insurance very easily at any international border crossing. Look out for a small kiosk immediately after customs. In August 2007, it was approx Euro27 for three weeks, with a minimum purchase of three days. We're not actually sure what it covered! We suspect the legal minimum of third party with no cover for your own vehicle.
The currency is the Konvertible Mark, which at time of writing was approximately 1.95KM to 1Euro. Euros are widely accepted.
Diesel, petrol, and foodstuffs are significantly cheaper than in the EU, although after other European supermarkets the selection can seem extremely poor. Look out for local food markets for fruit, vegetables, and particularly locally made cheese, salami and smoked meats, all of which are extremely good and cheap.
You'll find easy accommodation on the major north-south highways, where there are motels and guesthouses. Look out too for gostilnas, the B&Bs of Bosnia; these are much cheaper than the motels. Campgrounds are few and far between and those marked on the map often don't exist in reality. It is safe and legal to wild camp with the usual courtesies to land owners, however the land mine danger should not be underestimated, and hence you should camp only in areas that are obviously well-used. The usual courtesy of asking the landowner has extra value here, as local knowledge is one of the surest ways of ascertaining the safety of the area.
Apart from the mines, Bosnia is a very safe country with hardly any crime. Locals are friendly, and English and/or German is widely spoken, especially in towns.
Your United States Medicare or European Health Insurance Card (EHIC) will not cover you in Bosnia and Herzegovina. The CDC website offers updated vaccination suggestions.
Tap water is drinkable throughout the country.
We used the Marco Polo map of Croatia, Slovenia, Bosnia and Herzegovina, and Serbia, which has a scale of 1:300,000. This was barely adequate, but was the best one available. It is impossible to obtain detailed topographic maps; indeed, the only way for individuals to purchase these is on the black market. Road standards vary widely. The major north-south highways are generally well marked and in good condition, but away from these, even national routes can turn to dirt and have a complete absence of signposts.
Further Websites:
<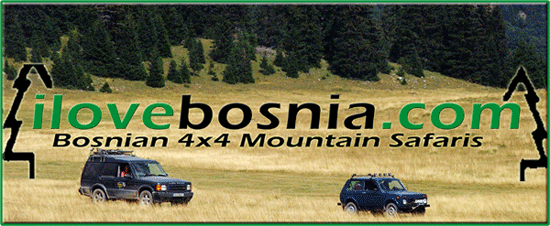 Bosnia Tourist Board: http://www.bhtourism.ba
Bosnian Institute: http://bosnia.org.uk/
© Bushducks, 2007
Photos © Bushducks, 2007

Home
Back Country Itineraries
Adventure Publications
High Country Pass Status
Adventure Travel Tales
Bushducks Land Rover
Links
Be informed when this site is updated: